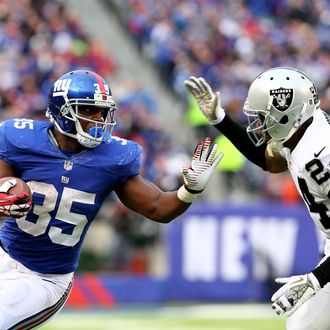 Andre Brown.
Photo: Elsa/Getty Images
After beginning the season with six straight losses, the Giants have won three straight games, including Sunday's 24–20 victory over the Raiders at MetLife Stadium. A 3-6 record through nine games is still pretty lousy, but in a weak NFC East, it puts the Giants just a game and a half back of the division leaders. (Dallas and Philadelphia are both 5-5, while Washington is tied with the Giants at 3-6.) But could the Giants really make a run at the postseason after starting the season 0-6?
It would take a historic turnaround: No team has ever begun the season 0-6 and reached the postseason. For that matter, no team has ever started 0-5 and qualified for the playoffs. The Giants do have a couple of things going for them, in addition to their weak NFC East foes. Andre Brown's return last weekend gave them the running back they'll so desperately need going forward, assuming he can remain healthy. And though they have the toughest schedule remaining of any team in the East if you go by the combined winning percentage of their remaining opponents, that's skewed somewhat by a game against 9-1 Seattle next month. Of their six remaining opponents (they play the Redskins twice), only Seattle and Detroit (6-3) are more than a game over .500. In other words, they have a lot of winnable games left — but surely their opponents would say the same about playing the Giants. (The Giants don't have any games remaining against teams that currently have a worse record than they do, though they have two games against Washington, who they're even with in the standings.)
But making up even a game and a half in seven weeks isn't easy in the NFL, particularly when it means catching two different teams and holding off another with an identical 3-6 record. Football Outsiders puts the Giants' current playoff odds at just 1.9 percent. (They secured that playoff spot via a Wild Card berth in just 0.1 percent of Football Outsiders'$2 50,000 simulations, confirming what you already knew: If the Giants are going to get in, it will almost certainly have to be by winning their division.)
And though the Giants have been winningly lately, those wins have come at the expense of teams with a combined record of 10-18. Next up is a Green Bay team playing without Aaron Rodgers, and a Giants' win, coupled with an Eagles loss to the Redskins next week, would mean the Giants would be playing Dallas for a share of first place in Week 12. But even if that scenario plays out, it still leaves five weeks of games in a tightly packed division. Playoff odds reports like the one at Football Outsiders aren't necessarily gospel, but they do give a good sense of exactly what a team like the Giants is up against.
If Giants fans can cling to anything, it's that the Giants in recent years have been such a Jekyll-and-Hyde team. Even within a single season, they can look both hopeless and impressive. Their highs are very high, and their lows very low. (Their last six seasons include two Super Bowl wins and three years in which they missed the playoffs entirely.) So maybe this team has indeed flipped some proverbial switch and will continue to win games, no matter how abysmal the start of their season was. But remember this, too: Coughlin's teams aren't exactly known for their stellar play in the second half of seasons.