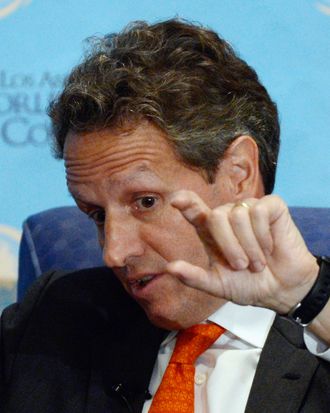 Treasury Secretary nominee Jack Lew listens to a question during his confirmation hearing before the Senate Finance Committee, February 13, 2013 in Washington, DC. If confirmed by the U.S. Senate Mr. Lew will replace Tim Geithner as Treasury Secretary.
Photo: Kevork Djansezian/Getty Images
This morning, New York private equity firm Warburg Pincus announced that the former Treasury secretary will become its president in March. Contrary to popular belief, this will be Geithner's first Wall Street gig. (He spent 25 years working Treasury Department, the International Monetary Fund, and the Federal Reserve Bank of New York. After leaving the Obama administration, he joined the Council on Foreign Relations and began work on a memoir.) Geithner had previously said it was "extremely unlikely" that he would take a job in finance, even though that's what pretty much everyone in his type of position ends up doing eventually.