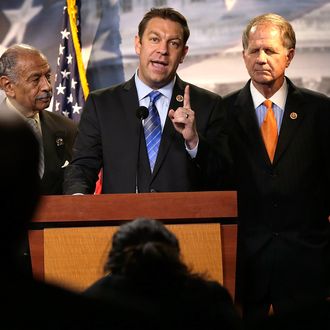 Photo: Win McNamee/Getty Images
But there's a twist: He's a white Republican! Rep. Trey Radel, the 37-year-old freshman congressman from Florida who once said, "Tupac is what I'ma be listening to in my car," was charged last month for cocaine possession. Politico reports that Radel was hit with a misdemeanor in Washington, D.C., on October 29, and is due in court Wednesday. It's like Rob Ford meets Florida Man meets Rep. Peter Russo from House of Cards.
Like Toronto's Mayor Ford, the drug-fueled political celeb of the moment, Radel has blamed his hard drug use on alcohol. Whereas Ford has said he was "very, very inebriated" he was filmed smoking crack, Radel said in a statement, "I struggle with the disease of alcoholism, and this led to an extremely irresponsible choice."
Unlike the blustering Ford, though, Radel is trying contrition. "As the father of a young song and a husband to a loving wife, I need to get help so I can be a better man for both of them," he said. "In facing this charge, I realize the disappointment my friends, family and constituents must feel. Believe me, I am disappointed in myself, and I stand ready to face the consequences of my actions."
"However, this unfortunate event does have a positive side," he continued. "It offers me an opportunity to seek treatment and counseling. I know I have a problem and will do whatever is necessary to overcome it, hopefully setting an example for others struggling with this disease."
Radel, a fresh face of the with-it GOP, has spoken extensively about his love of Biggie and Public Enemy's "conservative message." Rappers, he wrote on Buzzfeed (where he's also blogged about SkyMall), "described their experience as young, black men coming of age during the crack epidemic, gang wars and violence in every direction. Where else could a sheltered suburban kid hear or learn about these issues in such a graphic way? Not the local library."
Here he is from the afternoon of the arrest:
But this, from an interview with Roll Coll, you couldn't make up if you tried:
Q: What's your favorite vacation spot outside Florida?
A: Cartagena, Colombia.