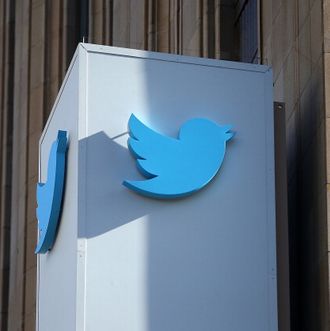 A sign is posted outside of the Twitter headquarters on October 25, 2013 in San Francisco, California. Twitter announced that it has set a price range for its initial public offering between $17 and $20 per share and hopes to sell 70 million shares.
Photo: Justin Sullivan/Getty
Not that Twitter would have announced its IPO share price any other way, but the company utilized its own service to announce an IPO share price of $26 on Wednesday night, ahead of its debut on the New York Stock Exchange on Thursday. That price puts the company's market capitalization at $14.4 billion, according to The Wall Street Journal. The New York Stock Exchange is so excited it hung a banner of the Twitter bird out front. Naturally, this has already been turned into a fail whale by people on Twitter.