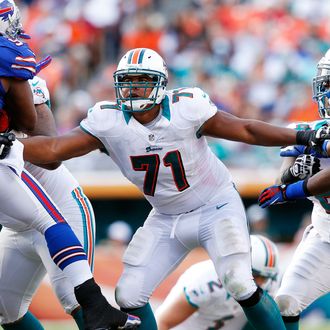 Not a reporter.
Photo: Joel Auerbach/Getty Images
Jonathan Martin is the name of the Miami Dolphins offensive lineman who was subjected to racist, macho harassment at the hands of teammate Richie Incognito, which is currently the biggest story in the NFL and probably sports in general. Jonathan Martin is also the name of a national political correspondent for the New York Times.
The former is on Twitter using the handle @J_Martin71; the latter is @jmartNYT. (You can tell the difference because one is playing football in his avatar and background image, while the other's bio reads "Nat'l Political Correspondent, NY Times.") Believe it or not, those interested in calling the football player Jonathan Martin a "coward" and a "pussy" on the Internet cannot tell the difference.
Martin, the political reporter, has seen his @ replies get rather nasty lately, as pointed out by Deadspin:
But you don't even want to see the real ones.