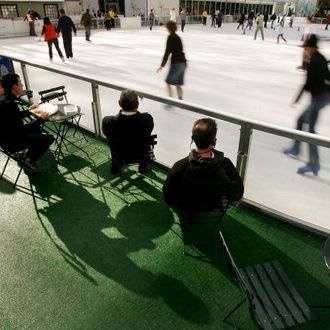 Just after 11 p.m. last night, the usually peaceful scene at Bryant Park's skating rink turned to screaming mayhem after a gunman opened fire following a dispute over a coat. According to eyewitnesses, two skaters were struck by bullets and rushed to Bellevue Hospital still wearing their skates. The New York Post reports that among them was intended victim, 20-year-old Javier Contreras, who was hit in his hand and hip, and 14-year-old bystander Adonis Mera, who was shot in the back. The shooter, described as a man in his 20s with dreadlocks and a green and black North Face jacket, was seen fleeing the scene with friends. 
Police say the argument started when the gunman said to Contreras, "Give me your jacket." Contreras refused and continued to skate. Witness Danny Betances said of the shooter, "He started walking real quick toward the ice, and I heard him say to the two guys with him that he was going to go talk to the guy who tried to steal his coat. Then he walked by. I saw him holding a gun in his waistband — and then I ran the other way."
The New York Post reports: "Rink staff began shouting for everyone to get down, as skaters hobbled through the skate house to escape, many of them throwing their rental skates at workers and scrambling away in their stocking feet." Raghuram Krishnamachari added, "No one could run because they all had skates on. Two minutes later, everyone was gone except one guy lying there on the ice." Even as police urged parkgoers to remain for question, visitor Halie Colon explained, "people just wanted to get out."

While the New York Daily News reports that Contreras is expected to recover, Mera's brother, Jorge Arias, told the paper that Mera "can't move anything from the waist down." Doctors reportedly told the boy's family Sunday that the lower half of his body has gone numb.
Update: The New York Post reports that the NYPD took Bronx 16-year-old Corey Dunton into custody Sunday morning over the shooting, though he has not been charged with anything yet. A source said of the teenager, "He thinks he's a gangster. He thinks he's a real tough."