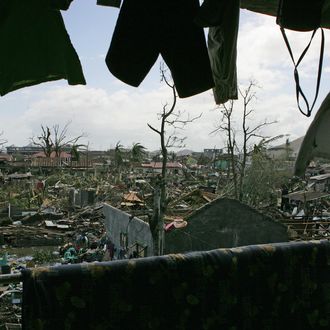 Photo: Jeoffrey Maitem/2013 Getty Images
The death toll continues to rise in the Philippines following Typhoon Haiyan, which brought winds of 190 mph, devastating the country on Friday. Only 151 deaths are confirmed so far, but more than 300 bodies have already been recovered from Tacloban (the hardest hit location). Administrator Tecson John S. Lim added that the toll could reach 10,000 in that city alone. Throughout the island nation, hundreds of thousands have been displaced, causing President Benigno S. Aquino III to declare a "state of calamity." The BBC is reporting that mass graves have developed in the most damaged areas.
With Tacloban in ruins, Defense Secretary Voltaire Gazmin described the chaotic scene there to the New York Times: "There is no power, no water, nothing. People are desperate. They're looting." Lynette Lim, a spokeswoman for Save the Children, weathered the storm in a government office and told the New York Times that even sites like schools and gyms designated by the local government as evacuation centers failed to hold up against the powerful winds. "The roofs had been ripped off, the windows had shattered, and sometimes the ceilings had caved in," she said in a telephone interview from Manila. Local news reports say officials still don't have an accurate fatality assessment since personnel haven't yet been found. Even Tacloban's mayor, Alfred S. Romualdez, was reported as "holding on to his roof" when rescuers found him.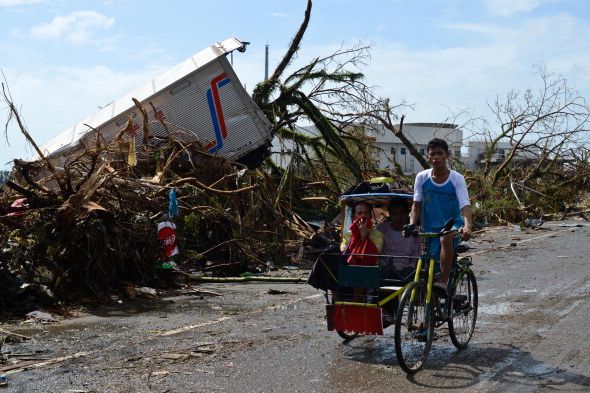 Weather Underground's Jeff Masters explained that the typhoon pushed huge amounts of seawater at up to 25 miles per hour onshore in a storm surge as high as thirteen feet. While city streets are used to flash flooding caused by the country's mountainous terrain, they were overwhelmed by surges typical of Atlantic hurricanes, he said.

The United States has responded to the storm by deploying ships and aircraft to bring emergency supplies and help in the search-and-rescue operations. The U.S. embassy in Manila also immediately supplied $100,000 for health and sanitation efforts. Additionally, the United Nations already has a disaster assessment team on the ground, where its head, Sebastian Rhodes Stampa, told the BBC: "The last time I saw something on this scale was in the aftermath of the [2004]  Indian Ocean tsunami. This is destruction on a massive scale. There are cars thrown like tumbleweeds. Vehicles thrown up against walls, telegraph poles down, roads blocked. It's a pretty grim situation all the way round."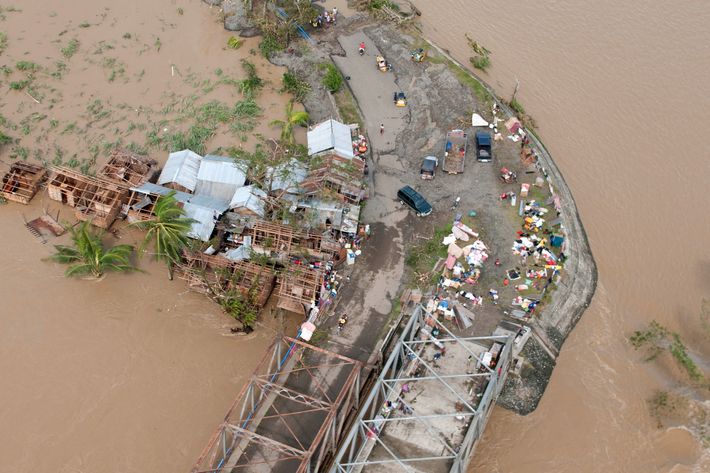 While the storm has weakened since hitting the Philippines, meteorologists from the BBC Weather Center now say the typhoon is expected to make landfall in just south of Hanoi in Vietnam on Monday afternoon local time. Nearly 500,000 people have already been evacuated there.