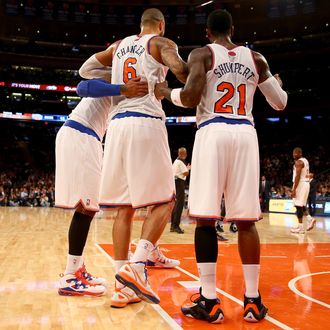 Tyson Chandler #6 of the New York Knicks is helped off the court by teamamtes Iman Shumpert #21 and Carmelo Anthony #7 in the first quarter against the Charlotte Bobcats at Madison Square Garden on November 5, 2013 in New York City.
Photo: Elsa/Getty Images
The 1-3 Knicks, who lost to the lowly Bobcats last night, were already playing some pretty mediocre ball before losing Tyson Chandler, the team's starting center and best defender, to a fractured fibula for four to six weeks. Now they'll be counting on Andrea Bargnani, a seven-footer whose inability to grab rebounds seems to defy the laws of physics, to help fill his shoes. These are dark times.