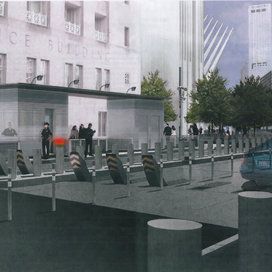 The NYPD's plans.
Photo: NYPD
One might assume New Yorkers would allow the new World Trade Center to be built with as many barriers and checkpoints as humanly possible; one would be wrong. A group calling itself the WTC Neighborhood Alliance is filing a lawsuit today against the NYPD for its intense plans to put the area in what opponents call "fortresslike isolation … as impervious to traffic as the Berlin Wall." It's like the fight over Citi Bike racks, but more important.
The police are calling the surrounding blocks a "campus," with barricades and guard booths spread around the perimeter. While they acknowledge "some visible presence on the streetscape," the landmark is considered a "target": "Car and truck bombs pose very real and serious risks. Indeed, the 1993 attack on the World Trade Center was a truck bomb, and the security plan guards against vehicle bombs by screening automobiles."
"I live in the City of New York — not 'on campus' or in a gated community," counters a resident. "I do not want to prove who I am to come home to my own apartment." Even with the specter of September 11 hovering, there's nothing less New York City than a gated community.