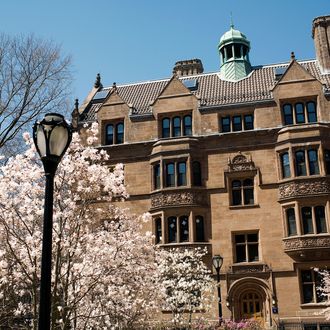 Photo: Christopher Capozziello/Getty Images
Just after 10 a.m. on Monday, New Haven police "received an anonymous call from a phone booth … reporting a person on the Yale Campus with a gun," according to the school's emergency-management alert system. Students and faculty were told via intercom and text message to shelter in place while authorities investigated. ("This is NOT a test.") At 11:02 a.m., the report of a gunman was "confirmed" on or near Old Campus, in the northwest area of the university. Maria Bouffard, director of emergency management, confirmed to the Yale Daily News that NHPD and YPD officers were on the scene.
Students are currently on break for November recess through December 2.
(Update: The call appears to have been a hoax. See below for more information.)
Update, 11:57 a.m.: According to the latest alert, "Teams from Yale Police, New Haven and the State Police are on the scene and are actively searching for any gunman." The lockdown remains in place.
Update, 12:54 p.m.: Stores in the area have closed, as police activity is ongoing in the neighborhoods surrounding campus.
Update, 1:59 p.m.: Nothing dangerous has surfaced so far. "Out of an abundance of caution, police will be doing a room to room search starting with the residential college areas," the school said. "When they knock on your door, a Yale Police Officer will slip their Yale ID under the door. Please cooperate."
Update, 2:50 p.m.: The original content of the payphone call, according to a spokesperson for the New Haven Police Department, was a male saying "his roommate was on his way to the university … to shoot people."
"The call was cut short by the caller, so they didn't provide more information besides giving a statement of his roommate coming down," said the spokesperson. "It was much more of a statement than a report to police. There was nothing specific about the threat."
Update, 3:21 p.m.: The lockdown has been lifted in most areas, but remains in effect for Old Campus and Calhoun College.
Update, 4:22 p.m.: "Nobody has been hurt, nobody has been found. But the day is hardly over," said New Haven Police Chief Dean Esserman. Of the possibility that the original report was a prank, which seems increasingly likely, he said, "The New Haven police are going to find … and we're going to put handcuffs on the person who made that call."
This post has been updated throughout.