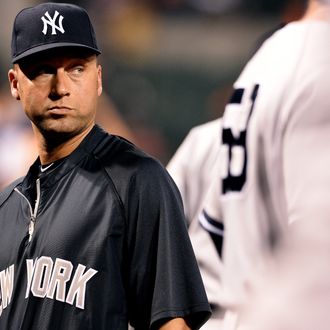 Derek Jeter.
Photo: Patrick Smith/Getty Images
If that sounds like more than Jeter — who will turn 40 next year and played in just seventeen games last season, hitting .190 — is worth, it's because it is. But there's a benefit to the Yankees here: Jeter held a reported $9.5 million player option for next season, which the team couldn't stop him from exercising. But it's the annual average of a player's contract that counts for tax-threshold purposes, and with the final year included, Jeter's last contract would have averaged out to roughly $15 million a season. Jeter's new deal replaces the old one, which means his number for tax-threshold purposes will be $12 million next year. And right now, the Yankees care more about staying under the $189 million threshold than they do about actual dollars spent.
One report said that Jeter actually initiated the new deal, and despite serious questions about what he can contribute next year, it's not hard to see why he would: He and his agent surely understood the luxury-tax implications of a new deal, and he did have a bit of leverage. If he declined his option, he'd have become a free agent, and the Yankees would have had to make him a one-year qualifying offer of $14.1 million or else go through the messiness of essentially telling Jeter to retire or go elsewhere (for far less money) in what could be his final season.
Update: … or maybe not. Some of the original reports about Jeter's new contract have been updated, and now suggest Jeter will wind up costing the Yankees even more for tax-threshold purposes next year. Chad Jennings explains that the annual value of his previous contract was artificially low, because it included the option year that's been replaced by the new deal. But, he explains, the Yankees have to make up that money. So, yeah, maybe this doesn't make a lot of sense for the Yankees.