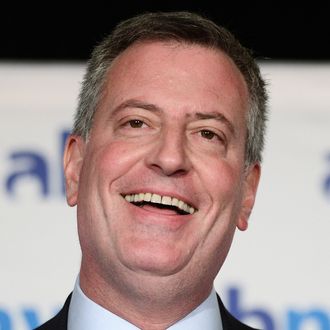 Photo: EMMANUEL DUNAND/AFP/Getty Images
While the news that Bill de Blasio supported the Sandinista government of Nicaragua in the eighties and nineties and honeymooned in Cuba incensed lifelong communism-hater Joe Lhota, it did not prevent de Blasio from holding on to a 40-point lead in the mayoral race. But will New Yorkers be able to ignore the candidate's commie-loving past in light of Sunday's revelation that he visited the USSR while he was a college student? Probably, but the Post is still trying to make the most of the story, reminding readers that the United States wasn't on great terms with the Soviets during de Blasio's 1983 trip. "That's the same year that then-President Ronald Reagan referred to the country's regime as 'The Evil Empire,'" writes the paper.
De Blasio hasn't mentioned his jaunt to Russia recently, but his resume from the nineties listed the following under "travel": "West Africa, Europe, Israel, Puerto Rico, USSR." A spokeswoman for the de Blasio campaign confirmed the report. "When he was a presidential scholar at NYU, Bill attended an annual trip that took him to Lithuania and Russia. In other years, he traveled – along with other presidential scholars — to Spain, Israel and Senegal," said Lis Smith. "He went in 1983 when they were still a part of the USSR."
The de Blasio camp wouldn't comment further on what he did in the USSR, and surprisingly, NYU had no immediate comment for the paper on a trip students took 30 years ago. The purpose for the visit was probably something boring like promoting cultural understanding, but until someone proves it was nothing like The Americans, we're going to assume fun wigs were involved.