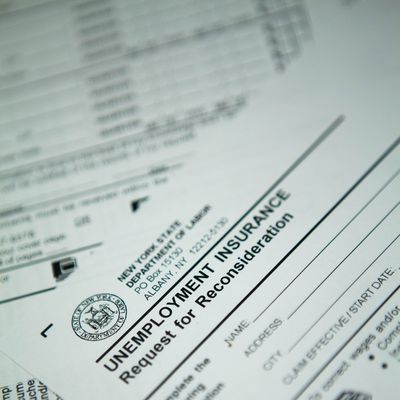 Last Thursday, the Republican-controlled House of Representatives voted to approve a last-minute budget deal designed to prevent a potentially devastating shutdown. Unfortunately for Americans who have been out of work for more than 27 weeks — a category that remains stubbornly large, even as the economy improves — the deal doesn't include an extension of federal unemployment insurance benefits enacted in 2010 as a response to the recession. (The extension kicks in after state benefits expire, typically at 26 weeks.) If the Senate votes to approve the deal this week, which seems likely, 1.3 million people in the U.S. will be losing their federal unemployment when the extension expires on December 28. GOP senator Rand Paul argued against extending benefits in a December 8 appearance on Fox News, saying if they were to continue, the government would be doing "a disservice to these workers … when you allow people to be on unemployment insurance for 99 weeks, you're causing them to become part of this perpetual unemployed group in our economy."
We asked some jobless people in the greater New York area to tell us how it feels to be part of this perpetually unemployed group, and what the extension expiration will mean for them. Here's what they had to say.
Robert Derczo, 64
Avenel, New Jersey — Accountant
I've been out of work since November 30, 2012. The hearing-aid company I worked for laid me off because of lack of sales. I was in manufacturing accounting, and they said they no longer needed me. They told me, "You did a good job, Bob. Now everything's under control and we don't need you anymore." That's okay, but I've probably put out close to 300 résumés in the last year. I consider myself a conservative Republican, for about 40 years, and I don't like it when they say people are lazy. People aren't lazy. There aren't any jobs out there — there's a complete lack of compassion. They come out with these blatant remarks without any thought whatsoever. I'm no spring chicken — I've been around the block a couple of times. But I still want to work, because I'm healthy, thank God.
Kerstin Foster, 45
Naugatuck, Connecticut — Civil Engineer
I lost my job because I work in civil engineering, which is highway construction, and we work on projects. When the project is over, I've usually been able to find another one, but I wasn't as lucky this time. I've been out of work since January 18. Looking for a job is horrible right now. I have two boys: One is an adult, but the other just turned 13 years old. As a single mom, you try to keep this stuff to yourself. You don't want to stress your kids out, but I think they kind of see you worry. Things change for them, and you have to tell them "no" a lot. I bought a car when I was working and making money, but if unemployment ends before I get a new job, I won't be able to make payments. I'll lose my car and then I won't be able to get to my job. I've paid taxes my whole life; I've worked my whole life. I'm a hard-working person. Apparently, Rand Paul doesn't know what it's like to go through what we're going through. Now, with the holidays … what do you say to a 13-year-old child? That he doesn't deserve the same things that other kids deserve?
Edgardo Torres, 31
Yonkers, New York — Roadside-Assistance Driver
I worked for a HELP truck company on the thruway. It's a program funded by the state, and if someone's stuck on the side of the road or has a flat tire, we'll change it; if they need a jump-start, we have booster cables, and they're on their way. If there's an accident, you put your car in front of it and secure the scene, and call the ambulance. But the company I was with didn't get the full contract from the state, and I was the last person to be hired, so they let me go in April. I have a newborn baby boy, and a 3-and-a-half-year-old daughter. I can't provide for them anymore, and it kills me to know that I can't buy presents for Christmas that my daughter would like to have. Simple stuff, like a Barbie, crayons … I've applied everywhere for work. I'd pick up dog crap; stand on a corner in below-zero weather. I don't care. I'll do whatever it takes. But no one's hiring. I'm a really hard worker, all I need is an opportunity and a chance. Now they're not extending benefits, and I don't know what I'm going to do. Sell my house, probably. I came from nothing, I never had a father, and my mother was always drinking, never cared if I went to school. We lived in the projects, seven kids. I was the one always working since junior high to give my brothers money or buy my sisters lunch. I was the one waking them up for school. Then I got married and had kids, and I wanted to do everything opposite from what my mom did. I knew before I had a family it would have to be a lot better for them. Now, not having money, and with benefits being cut off, it feels like it was all for nothing. Nothing pays off.
Michelle, 50
Norwalk, Connecticut — Unspecified Professional

I was part of a corporate reorganization, and I've been looking for a job since the beginning of May. I have a lot of experience — I've been in my industry for over twenty years. I'm getting lots of interviews, but I'm getting through the first couple of rounds, and then it just seems to drop off the face of the Earth. I know the economy is bouncing back, but companies are cautious and hesitant to make the offer. I have two kids, in college and high school. My son was in a four-year private school, and now he's home and going to community college. I'm a single parent, so the responsibility is on me. I've had to borrow money and dip into my savings. Not to sound ungrateful — unemployment is great, and it goes a long way, but I'm still raiding my 401K to pay my bills — and they aren't savings like, "Gee I can't go to the opera tonight." It's like, there's no college, there are no Christmas presents.
Anna Marie Borelli, 49
New York City — Legal Secretary
I've been unemployed for six months, and that's a lot less than many people I know, who've been out of work for over a year. But my unemployment is running out in two weeks. I lost my job as a legal secretary because my company was downsizing. I looked, but there was nothing — I mean, nothing. People can't live like this. I can understand if you've been on an extension for a year, two years — but I've never had an extension. The market isn't as great as everyone thinks it is. For every job that's out there, there are a zillion candidates who are all qualified. Financially, I'm screwed, because I don't have a savings account. So, what is there left for me to do but go on welfare? I'm not saying there aren't people out there taking advantage of the system, but I'm not one of them. I save everything — every job I've ever looked for, every response I've ever gotten. I save those little stickers security gives you when you go into a building for an interview. I need a few more months to look for work.
Paul Hallasy, 52
New York City — Educational Publishing
Most of my jobs since 2006 have been project-based. My last job was at Scholastic, and that ended in June. Since then, at my last count, I've sent in 521 applications. I've e-mailed my entire LinkedIn network of over 500 people multiple times. I've cold-called and e-mailed people, gone to networking events and seminars, and registered with agencies. I've had interviews in person and over the phone, but I haven't received any offers yet. I'm beyond furious about what the government is doing. I've been calling Congress and sending them letters almost every single day in the last week. I don't understand how people can afford to support families on $375 a week. I can't even support myself, and how is $375 a week going to be enough to live in New York City? And now that's being taken away. These politicians in Washington either don't give a damn, or are absolutely clueless about how people live their lives.
Michele Laumeister, 45
New York City — Graphic Designer
I'd been freelancing, and jobs kept coming. Then I got a permanent job in my field, but I was laid off because the owner said she wasn't making any money off the website and social media, which is what I was doing. I haven't been able to find a new job. It's been really hard. I had to move in with my mother. I don't know how people do this without the support of their families. If it hadn't been for extended unemployment, my life was on the line. It's been really intense, and that extension was a lifesaver. Now that they're not extending it, if it weren't for my family, I'd be really, really scared. I've borrowed money from friends. It's horrible, it's demoralizing — and it's a constant struggle to scrape by. I'm constantly sacrificing my autonomy. I mean, no, I don't like that my sister is paying my phone bill and I owe my friends money.
These statements have been condensed and edited.