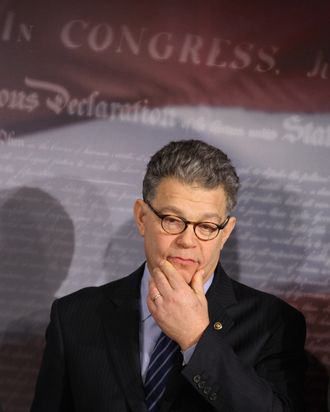 Sen. Al Franken (D-MN) participates in a news conference after helping move a repeal of the Defense of Marriage Act out of the Judiciary Committee at the U.S. Captiol November 10, 2011 in Washington, DC. The Senate Judiciary Committee voted along party lines Thursday to repeal the Defense of Marriage Act, which was signed by President Bill Clinton in 1996.
Photo: Chip Somodevilla/Getty Images
"You know, there's been a lot of controversy about the ethnicity of Santa lately," Senator Al Franken mused on NPR today. "Maybe, you know, he's Jewish." Yeah, sure, maybe a Jewish guy is voluntarily spending time in the freezing cold with wild animals. Good theory.