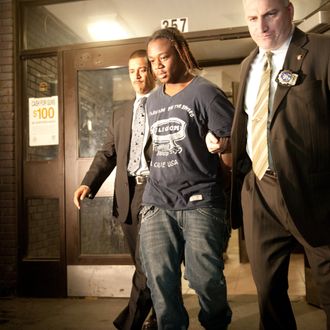 Cory Dunton.
Photo: Bryan Smith/Corbis
The tenor of Bryant Park ice rink shooting suspect Cory Dunton's discourse changed significantly from the time he was fingerprinted after his arrest to his first court appearance, when he yelled profanities at reporters. According to the New York Times, it was around the time police were taking his prints that he asked for a paper and pen and wrote a heartfelt apology to his alleged victims, a copy of which the Times posted in full. "I wish I could take it all back, turn back time, but don't we all," Dunton wrote. He apologized to Adonis Mera, a 14-year-old bystander and basketball player who was paralyzed from the waist down, for "ending the dreams or hopes Adonis had in life."
But Dunton's legal stance expresses far less contrition than that three-page handwritten letter. He pleaded not guilty on Tuesday, his lawyers arguing that his confession would be inadmissible in court because it came after he had asked for an attorney. Per the Times: "Court documents confirm that Mr. Dunton said to the police, 'I think I want to talk to a lawyer' at the start of his interrogation, which lasted more than 12 hours." Unlike his last appearance, Dunton only said two words in his arraignment on Tuesday, at which the apology was revealed: "Not guilty."
Update, 12:41 p.m.: The office of District Attorney Cyrus Vance took issue with The Times's description of the interrogation lasting 12 hours. They said court papers indicated that while Dunton was in custody for 12 hours, the interrogation stopped once he asked for a lawyer, and that he volunteered all statements that came after that.