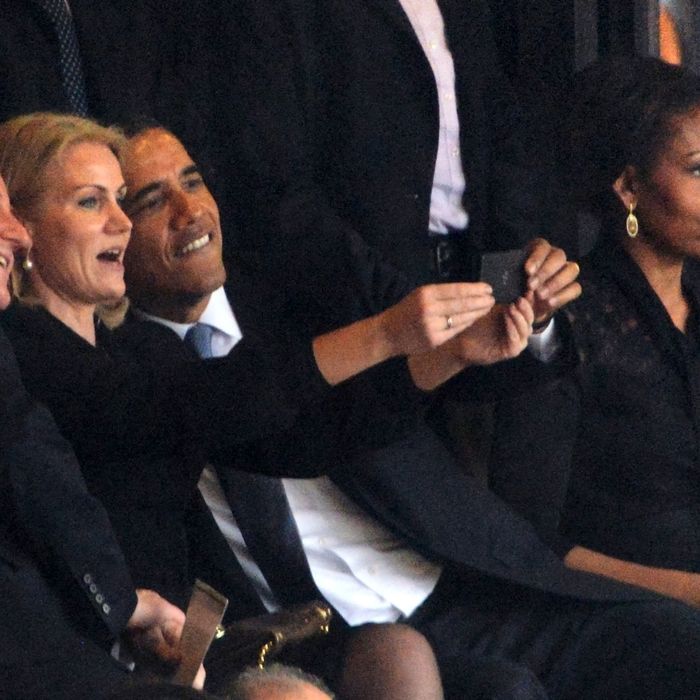 Here it is again.
Photo: ROBERTO SCHMIDT/AFP/Getty Images
It's been over two days since President Obama shocked and amused people across America by taking a Nelson Mandela memorial-service selfie with British Prime Minister David Cameron and Helle Thorning-Schmidt, a towheaded female person who also happens to be the Prime Minister of Denmark. At this point, it seems clear that Michelle Obama was not angry at her husband for participating in the photo-taking session, but generally disapproving and highly imaginative New York Post columnist Andrea Peyser sure is. In the headline for today's dispatch, Peyser (who apparently has returned from her leave of absence from the paper) insists, "Flirty Obama owes us an apology." Peyser gets much crazier from there, as only she can.
In the space of the approximately 550-word piece, Peyser manages to refer to Thorning-Schmidt as a "Danish pastry," a "Danish hellcat," a "cross-legged Danish cupcake," a "Danish tart," a "Danish hottie," "a blonde bimbo who hadn't the sense to cover up and keep it clean," and someone "who is known in Copenhagen as a fan of America's randy TV show Sex and the City." Obama, meanwhile, "lost his morality, his dignity and his mind," acted like "a hormone-ravaged frat boy on a road trip to a strip bar," "giggled, whispered like a recalcitrant child and made a damn fool of himself," and "publicly [behaved] as if he was plotting his next hook-up." As for Michelle, she "wanted to spit acid at the man she married." Peyser is certain the split-second episode — or her sexy fan-fiction version of it — is "grounds for divorce."
"This wasn't a key party," writes an ostensibly indignant Peyser. Bored office workers are lucky they have her to turn it into one. Tune in tomorrow for the George W. Bush–Jordanian Queen Rania installment.