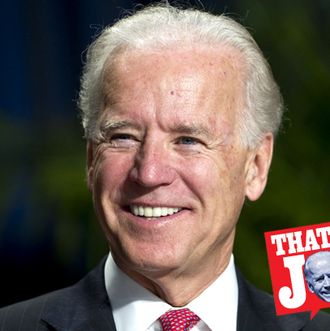 Photo: SAUL LOEB/AFP/Getty Images
Vice-President Joe Biden and the merry band of reporters paid to follow him around and write down what he says are having a weird time on the other side of the world. In addition to the serious bumps, like China's new air defense zone and crackdown on the foreign press, the trip to China, Japan, and South Korea has also had the everyday hijinks we've come to expect from government's gift to The Onion. Reporter Steve Clemons of The Atlantic, for one, was the butt of a Biden joke that didn't really make much sense at all.
From the White House pool report:
Then an awkward thing happened in which your pool inadvertently became part of the story.

While taking pictures of the two Vice Presidents with a new iPhone 5, Vice President Biden pointed at your pool, whose name is Steve Clemons, and gestured to VP Li Yuancho saying "he is a very important man. Seriously he is important." Your pool demurred as best he could. This will surprise some but it is true.

Then Vice President Biden told Vice President Li, "You should speak to him. He is the one you really want to speak to. Seriously."

Pool froze up not knowing what to do but smile and wave a bit to Vice President Li.

As Vice President Biden and Vice President Li began to walk away towards the banquet hall door, Vice President Li Yuanchao stopped and looked at your pool and said in deep, haulting, but distinctive English, "Vice President Biden is a good friend to you and to me."

VP Biden winked in the direction of your pool and the two Vice Presidents walked into the banquet hall.
Wink.
Biden's mere presence also put uncomfortable vibes in the air as reporters jockeyed for space, according to The Wall Street Journal. A "skirmish" broke out, starring Washington Post reporter David Nakamura, who took a spot on the photographer's podium because the room was already filled with Japanese reporters:
He was immediately pushed back, and his attempts to climb back up were thwarted repeatedly. Japanese reporters informed him the podium was only for people with "real" cameras, not for print reporters, an account confirmed by a spokesman at the Prime Minister's Residence.

"You are in Japan, you follow our rules." one reporter shouted. "Yeah. When we go to America, you always make us follow your rules," another yelled, sharing his bitterness at being denied access to President Barack Obama during his latest press trip to Washington.
Biden's wink diplomacy has its limits.