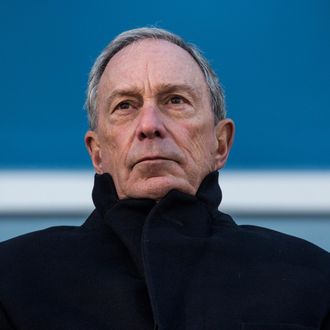 Photo: Andrew Burton/Getty Images
It was only a matter of time — assuming Michael Bloomberg couldn't run out the clock for two more weeks — before a reporter managed to ask the mayor about the New York Times' five-part, lose-your-faith-in-humanity story on Dasani, a homeless 11-year-old, and her Brooklyn family. And so it was only a matter of time before Bloomberg delivered at least one tone-deaf line among a larger defensive response.
Based on Bloomberg's past callous answers to questions about the city's homeless problem, it shouldn't be too much of a surprise that he said today, "This kid was dealt a bad hand. I don't know quite why. That's just the way God works. Sometimes some of us are lucky and some of us are not."
But if you've read the horrible story — about the shelters "where mold creeps up walls and roaches swarm, where feces and vomit plug communal toilets, where sexual predators have roamed and small children stand guard for their single mothers outside filthy showers" — it still might make you wince.
"Her family situation is extremely atypical," Mayor Bloomberg explained, according to Politicker. "The article implied that all people are treated this way, or all have the same problems and that just is not true. The average homeless family spends less than two years in shelter and has some employment history; this family did not. This is a sad situation and we're certainly going to continue to try to help the parents to achieve stability and independence."
"It's fair to say that New York City has done more than any city to help the homeless and we should be very proud of that," he added. "Should we stop there? No, not at all. But if you are poor and homeless you'd be better off in New York City than anyplace else." (See Mayor Bloomberg's full comments on the story here.)
The Times, in the second part of its Dasani story, reported:
The Bloomberg administration set out to revamp the shelter system, creating 7,500 units of temporary housing, a database to track the shelter population and a program intended to prevent homelessness with counseling, job training and short-term financial aid. The new system also made it harder for families to be found eligible for shelter.

For a time, the numbers went down. But in the wake of profound policy changes and a spiraling economy, more children wound up in shelters than at any time since the creation of the shelter system in the early 1980s.
Mayor Bloomberg, who asserted earlier this year that "Nobody's sleeping on the streets," has attributed the rise in shelter populations to their superb quality. "We have made our shelter system so much better that, unfortunately, when people are in it — or fortunately, depending on what your objective is — it is a much more pleasurable experience than they ever had before," he's said.
Dasani's life, God's work or not, is a totally different reality.