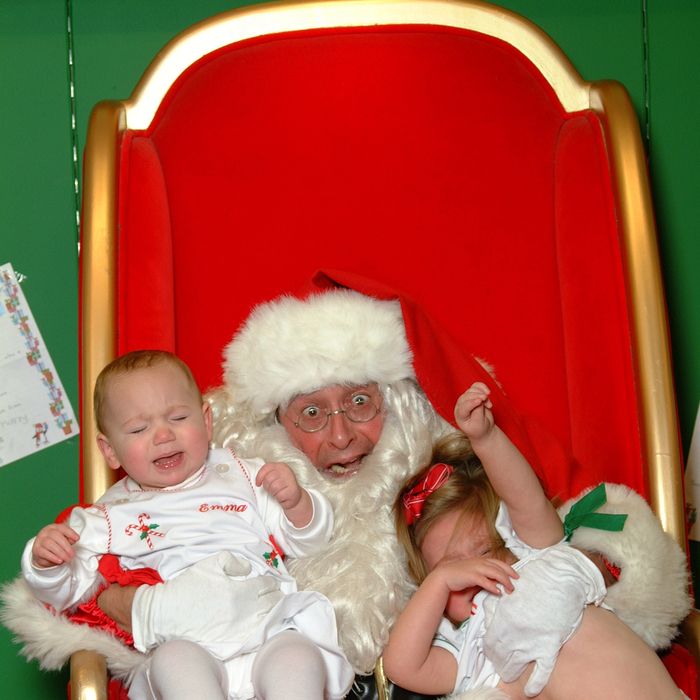 Scott Baker on the job.
Photo: Scott Baker
From the Macy's Thanksgiving Day Parade to your skeevy office party to Rockefeller Center, where the massive Christmas tree will be lit today, someone has to wear the Santa suit. It's a thankless job, all itchy polyester and crying kids, but it's a staple of the season, and for eleven years at Bloomingdale's, the actor and Coney Island sideshow regular Scott Baker happily donned the beard.
"I was considered maybe the top department-store Santa in New York City," he told Daily Intelligencer — that is, until he was dropped from the rotation this winter. "They hired me year after year," he said wistfully. "I was stunned, shocked."
"This is strictly political, but one of the corporate heads at Bloomingdale's found somebody he wants to be Santa this year," said Baker, who has also put in time at Macy's, Saks, and corporate parties over the last quarter century of Santa-ing. Bloomingdale's did not return a call seeking comment.
A few blocks south, at the Rockefeller Center skating rink, there's also been a regime change. Paul Chernosky, the Skating Santa for the last fifteen years, was told in September that he wouldn't be welcomed back. "There were no problems," said Chernosky, a choreographer, dancer, and filmmaker who lives part of the year in Berlin. "I was there to do something good."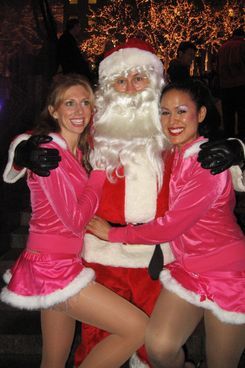 "Our relationship with Paul Chernosky was discontinued this year, when after several discussions about his quality of service as one of our Skating Santas the decision was made to go with another vendor," said a spokesperson for Patina Restaurant Group, which runs the rink, in a statement.
To add insult to injury, Chernosky was told that his $900 skates — which he famously left in the back of a cab, only to have them returned by TLC chairman David Yassky himself in 2011 — were removed from his usual storage spot and likely thrown away. "I expected to come back," said Chernosky. "There's nothing I did that could be considered insubordination. I wish I had a clear idea why."
"Yes, I was being paid, but I actually enjoy it," he added. "It's become a part of my Christmas tradition. There are kids who are now young adults in college, starting new jobs, and still coming back. A lot of people ask for me by name." (He's started a Change.org petition in a last-ditch attempt to be reinstated.)
Baker, too, said he was a "seasonal attraction," not just another guy in a costume. "I had people come year after year after year to see Santa Scott," he said. And yet he's been left with no choice but to move on, taking a Santa job at L'Occitane on Fifth Avenue, which he said "gives me more free time and pays more." His one-man show, Kringled: My Life As a Big City Santa, opens later this month.
But despite their similar Christmas letdowns, don't expect Baker and Chernosky to commiserate over eggnog. "We're not, like, hanging out after work," said Chernosky of the city's many Santas. "Oh, heaven's no," Baker agreed. "First of all, there are far too many of us."