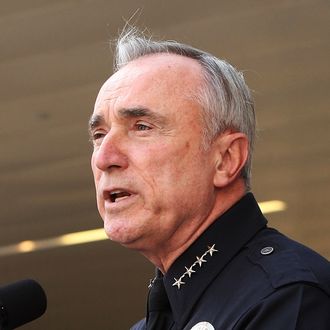 Photo: David McNew/Getty Images
In Bill Bratton, Mayor-elect Bill de Blasio found a police commissioner with an impressive reputation for bringing down crime rates while leading the NYPD from 1994 to 1996, and then the LAPD from 2002 to 2009. When he wasn't policing, Bratton lobbied his expertise into a profitable career in private security consulting. Now his experience in the private sector is creating some headaches as he transitions back into public office, as Bratton happens to sit on the boards of two companies attempting to do business with the city, and serve as a senior adviser to another.
The New York Times reports that Bratton is resigning from each position. This month he stepped down as a senior adviser at the global risk management firm Kroll, and he is also leaving the boards of Motorola and ShotSpotter, which uses microphones to determine the locations of gunshots. After testing the technology in 2010, the NYPD found too many false positives, but De Blasio's campaign website says he plans to "invest" in the sensors "for the 15 highest crime neighborhoods."
In addition to resigning, Bratton told the paper he won't give paid speeches or do outside consulting work while serving as police commissioner. Bratton said he and De Blasio "never had a conversation about ShotSpotter," and he won't be involved in procuring the system for the city. "I don't see any issues at all going forward," he said. "And if there is an issue that comes up, then I'll just recuse myself from any part of the decision making on it." And just in case you don't want to take his word for it, he's also working with the city's Conflicts of Interest Board to make sure his public and private careers stay separate.