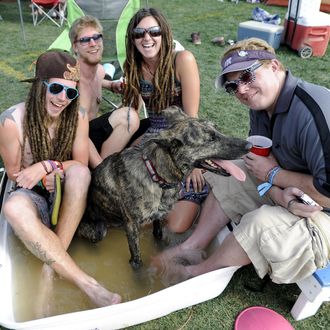 Photo: Tim Mosenfelder/Getty Images
Leave it to Phish to stretch New Year's Eve into four nights. The band's annual extended celebration started over the weekend at Madison Square Garden, where at least 38 jam enthusiasts exiting the show were arrested on narcotics charges. "It's a Phish show — there are a lot of drugs," admitted one anonymous concertgoer.
Last month, 42 people were arrested outside a Phish show in Atlantic City, while more than $11,000 worth of hash, cocaine, MDMA, mushrooms, LSD, bath salts, nitrous oxide, prescription pills, and marijuana were confiscated.
"There's nothing safer than a Phish show and nowhere else I'd rather be," said an MSG attendee with, at best, 50 percent accuracy.
Update: After two nights of shows, the number of fans busted for drugs and other offenses is a staggering 185 people, DNA Info reports.