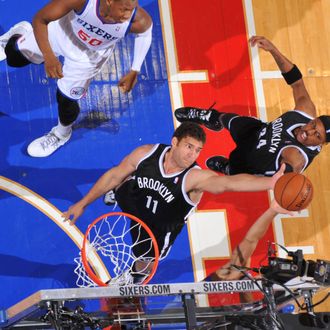 Brook Lopez #11 of the Brooklyn Nets grabs a rebound against the Philadelphia 76ers at the Wells Fargo Center on December 20, 2013 in Philadelphia, Pennsylvania.
Photo: Jesse D. Garrabrant/NBAE via Getty Images
Brook Lopez, the Nets' all-star center who was averaging a career-best 20.7 points per game, is out for the rest of the season after breaking his right foot's fifth metatarsal for the second time in two years during a game on Friday night . Even though the Nets are just 2-7 in games without Lopez this year — you literally can't spell "Brooklyn Nets" without "Brook," although Lynnet's does sounds like it could be a good diner — GM Billy King insists he's "not going to panic." He might cry a little, though, when nobody is looking.