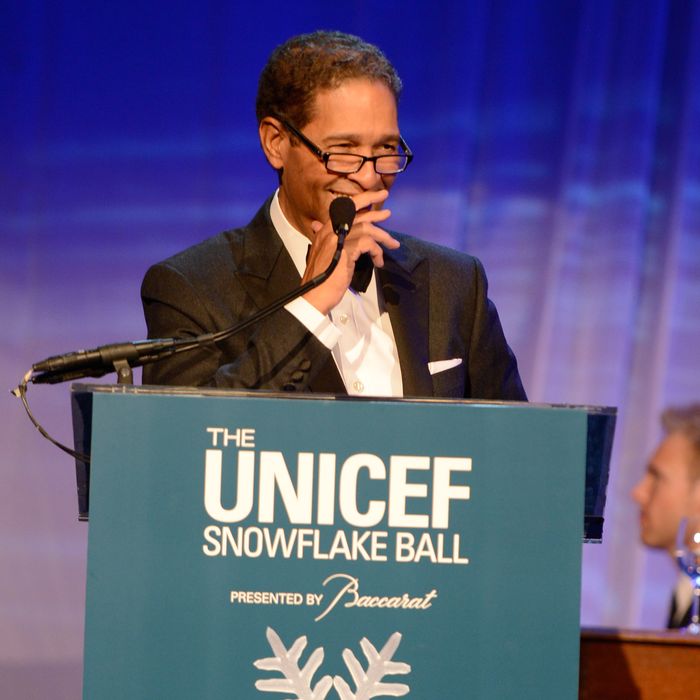 Bryant Gumbel.
Photo: Kevin Mazur/Getty Images
Last night at the Ninth Annual UNICEF Snowflake Ball, Barneys CEO Mark Lee accepted an award for his years of work with the charitable organization. Daniella Vitale, Barneys COO, presented the award with a personal speech. "The last month has been very difficult for Mark," Vitale said, acknowledging — but not overtly mentioning — the recent allegations of racial discrimination at Barneys that strained a partnership with Jay Z.  
But rather than dwelling on the matter, Vitale recalled Lee's response when a sexist boss at Gucci (where she also worked for Lee) continuously asked her who was home with her children while she worked. "[Mark] supported me so I could actually see my children," she said. "And he gave me a prominent seat at the table." She added that the "tables" under Lee have been increasingly lively, diverse, and dominated by females.
After Lee accepted his award, the night's emcee, Bryant Gumbel, took a different approach to the Barneys scandal. "Like these shoes?" he asked the audience. "I got them at Barneys — nice price, and I was only in the tank two hours." The crowd laughed, uncomfortably. "I ran it by Mark," he added, only slightly easing the awkwardness. "It's okay, trust me."
This post has been updated with additional quotes.