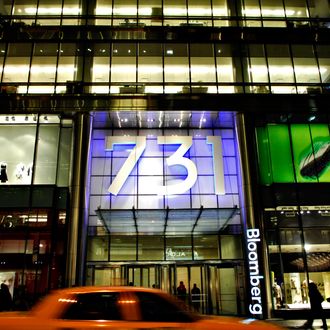 Photo: Keyur Khamar/Bloomberg via Getty Images
Bloomberg News recently took some heat over reports that editor-in-chief Matthew Winkler spiked a yearlong investigation into the corrupt relationship between a Chinese tycoon and China's government, apparently because he was concerned about angering authorities there. Sources said Winkler compared his actions to "the self-censorship by foreign news bureaus trying to preserve their ability to report inside Nazi-era Germany," though some observers believe the decision had more to do with protecting the sales of Bloomberg terminals in China than preventing Bloomberg journalists from getting kicked out of the country. (The lead reporter on the project, Michael Forsythe, recently left the organization, probably because he was believed to have spoken to the press about the situation.) Regardless of what motivated Winkler to kill the piece, Fortune reports that the move seems to have backfired.
The magazine's Peter Elkind and Scott Cendrowski write that, at the end of November, Chinese officials conducted in unannounced "security" and "safety" inspections of Bloomberg News's  Beijing and Shanghai bureaus. According to Fortune, at least one of them "asked the company for an apology from Winkler." Though it's not clear which government agency the officials represented, people at Bloomberg "view the appearance by civil government officials (they weren't police) as an act of intimidation." So, it seems that the thing Bloomberg was trying to avoid by not publishing the story happened anyway, only nobody got to see the thing.