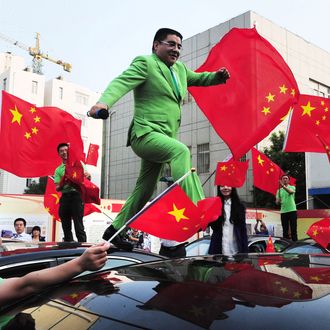 Chen Guangbiao on, like, a Tuesday.
Photo: STR/2012 AFP
Chen Guangbiao does not care that New York Times chairman Arthur Sulzberger, Jr. recently declared the Times was not for sale. Chen's philosophy is shared by many a mega-wealthy tycoon, if B-movies and cartoons have taught us anything: "There's nothing that can't be bought for the right price," he told Reuters. The tycoon, who made his money in recycling construction materials, made his reputation as a kooky do-gooder with stunts such as handing out cans of fresh air, to raise awareness of Beijing's pollution problem, and distributing cash following an earthquake in Lushan. He figures the Times is worth about a billion dollars, but he's already negotiating.
Chen says he has a January 5 meeting planned with an unnamed "leading shareholder" in New York. And he says he's wrangled an unnamed Hong Kong tycoon to put up some $600 million for the deal. But in spite of all that anonymity, he's hardly playing his cards close to the vest. He's already told Reuters that if he couldn't buy the paper, he would be fine with buying a controlling share, and if he couldn't do that, he would "simply buy a stake."
Chen also makes no bones about his reason for wanting some or all of the paper. After he bought a half-page ad last year arguing China's side in a dispute with Japan over a string of islands, Chen said, "I realized that the Times' influence all over the world is incredibly vast."
Chen's initial offer quadruples what Jeff Bezos paid for the Washington Post, a purchase that moved the Times to reiterate back in August that it wasn't for sale. But Chen said that if he couldn't get the Times to bite, he would continue shopping for an international media property, including making offers to CNN, the Wall Street Journal, and, yes, the Post.