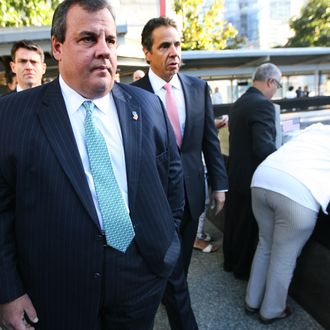 Photo: Chris Pedota/Getty Images
Last week, Chris Christie's Port Authority appointee and longtime friend David Wildstein resigned after other Port Authority officials confirmed reports that he ordered that two George Washington Bridge lanes coming from Fort Lee, New Jersey, be shutdown for a "traffic study" that likely never existed. The closure, which caused traffic jams in Fort Lee, appears to have been an act of revenge against the town's mayor, a Democrat, who declined to endorse Christie's reelection bid. On Friday, Wildstein's former supervisor, Bill Baroni (who also just happens to have been a Christie appointee) gave up his job as well. In addition to possibly lying under oath about the study, Baroni allegedly worked with Wildstein to prevent their Port Authority counterparts in New York from going public with the scheme once they'd discovered it.
In a press conference, Christie acknowledged that Baroni had mishandled the supposed study and said, "He offered his resignation now and I accepted it because I thought it was the appropriate thing to do given all of the distraction that's going on." Christie also said that he himself had not signed off on the fiasco, which, he insisted, was "absolutely, unequivocally not" politically motivated. Finally, the New Jersey governor denied a Thursday Wall Street Journal report that he had called Andrew Cuomo to complain "that Patrick Foye, the executive director of the Port Authority of New York and New Jersey, was pressing too hard to get to the bottom" of the situation.
Meanwhile, Capital New York reports that Cuomo — who so far has not said much about the growing scandal — is determined to keep all of the blame on the other side of the Hudson. "At the Port, it's going to be horrible," said a source who knows Baroni and Christie. "There's a real threat of a retribution war back and forth, like gangs." While Christie will surely continue to do what he can to distance himself from the controversy, it just might be Jersey enough to stick with him until the Republican presidential primary race.