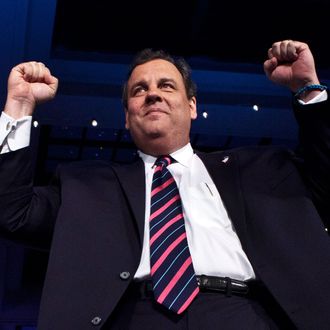 Photo: Kena Betancur/Getty Images
It's certainly starting to look like the New Jersey governor's crew sought petty retribution against a political enemy by purposely causing traffic on the George Washington Bridge. Yes, really. It all feels very New Jersey, which is not the best thing for Chris Christie's national aspirations.
The brewing scandal all started with a jam on the bridge in September, when three lanes from Fort Lee, New Jersey, were shut down for a "traffic study." But testimony from Port Authority officials yesterday confirmed the initial, somewhat outlandish speculation (and later, solid reporting): There was no study — instead, Christie appointee (and high-school buddy) David Wildstein may have ordered the lanes shut to get back at the Fort Lee mayor, a Democrat, for not endorsing the governor in his landslide run for reelection.
"Mr. Wildstein instructed me 'do not speak to anyone in Fort Lee,'" Robert Durando, the General Manager of the George Washington Bridge, testified. Wildstein and his boss on the Jersey side, Bill Baroni, kept the plan from their New York counterparts as well. Baroni later testified under oath about the traffic study that no one else has heard of. Wildstein has since resigned.
Asked if there was a "culture of fear" at the Port Authority, Durando paused for "an eternity," WYNC reports. "I think your answer speaks for itself," his questioner said.
When Christie himself was asked about the budding controversy last week, he deployed his patented smackdown. "I worked the cones actually," he told reporters. "Unbeknownst to anyone, I was actually the guy out there, in overalls and a hat. You are not really serious with that question." But the issue isn't going away, and added to previous whispers about Christie's potential shadiness — never mind the bullying and intimidation — this could add substantially to his 2016 workload.