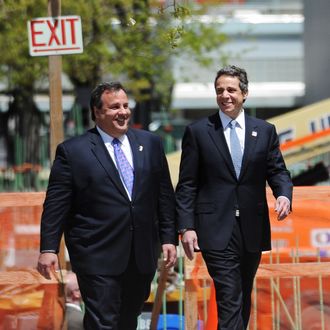 Photo: STAN HONDA/AFP/Getty Images
The actually not-so-crazy version of events that says Chris Christie's government goons shut down three lanes of the George Washington Bridge to get back at a political foe via traffic — thus intimidating colleagues into compliance — might be achieving its desired effect. Asked today whether he believes Christie's side, which claims the lanes were closed for a "traffic study" no one at the Port Authority has ever heard of, Governor Andrew Cuomo "paused for a full six seconds."
From The Wall Street Journal:
"It's a season of loaded questions," [Cuomo] eventually responded. "The governor and I have a good relationship–a professional relationship and a personal relationship. The issue of the traffic study was primarily a New Jersey incident, so our basic operating agreement is, when it has to do with New Jersey, Gov. Christie handles it. When it has to do with New York, I handle it. If it's a management issue, dealing with the Port itself, we do it jointly. But I'm sure it is as Gov. Christie says it is."
The two longtime Christie associates/appointees involved in the "study" have since resigned, while its results should be available, um, any day now.