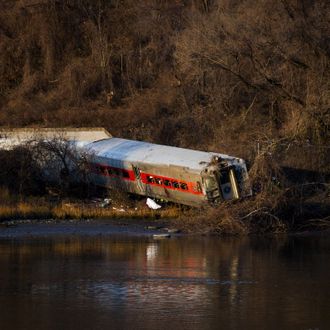 Photo: Christopher Gregory Images/Getty
While investigators are still working to determine the cause of Sunday's deadly Metro-North crash, Governor Cuomo said this morning that he thinks "it's going to be speed-related." "It's not about the turn," he said on Today, referring to the track curve the train was approaching when it derailed near Spuyten Duyvil. National Transportation Safety Board member Eric Weener seemed to confirm Cuomo's statements this afternoon, when he said in a press conference that the train was traveling at 82 mph as it entered the 30 mph turn zone, according to preliminary data extracted from black box recorders. 
Conductor William Rockefeller is said to have told emergency responders on Sunday that he hit the brakes when he realized the train was moving too quickly as it neared the turn, but was unable to slow down enough to avoid the accident. The NTSB interviewed Rockefeller and several other crew members today, though Weener declined to say what they learned from those conversations. However, he did say that "the throttle went to idle six seconds before the derailed train came to a complete stop — 'very late in the game" for a train going that fast' — and the brakes were fully engaged five seconds before the train stopped."
Whether or not the accident was the result of faulty brakes or human error on Rockefeller's part is still unclear. The NTSB is also looking at his cell phone in an effort to find out if he was distracted before the train went off the rails. An unnamed Metro-North Hudson Line engineer who spoke to the New York Times about the incident said that the scene of the wreck not was "not an especially dangerous area," despite the sharp curve. "It's like driving your car," he said. "When you're coming up to a curve, you slow down."
Meanwhile, as the investigation and cleanup continue, Hudson Line service is suspended south of Yonkers, and service is limited between Poughkeepsie and Yonkers. The disruption, which could last for days, affected 26,000 people this morning, but the commuters — who are making d0 with buses, other Metro-North lines, and carpools — seem to be keeping the inconvenience in perspective. "Look at where we are, on a bus, and look at where they are," said one regular rider of the families of those killed or injured in the crash. "This is nothing; we have it great."
This post has been updated throughout.