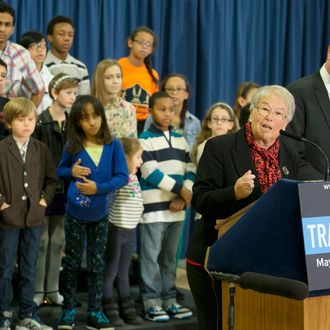 Photo: Mark Lennihan/AP/Corbis
A tale of two symbolic moments from this morning's press conference announcing Carmen Fariña's installation as the new schools chancellor. Moment one: When Fariña couldn't quite hear the question being asked from the back of the room and walked out from behind the podium to get closer to the reporter. Moment two: 60 minutes in, when one of the Brooklyn middle-schoolers standing behind her fell off the riser, and Mayor-elect Bill de Blasio finally suggested that the other kids sit down.
The girl was, thankfully, not injured. But those two unscripted touches were perfect representations of what's hopeful and what's daunting about the choice of Fariña to lead the public-school system. She's a warm and direct presence who is totally at ease in every possible educational setting; even during her past seven years of semi-retirement, Fariña has probably spent more time in classrooms than her own living room. Fariña will start the job commanding respect even from those with whom she's disagreed on policy questions, and her vows to "change the tone" and celebrate what's working well should thrill many principals and teachers — as should her substantive promises, like beefing up teacher development programs.
 
The kid who tumbled, though, was a reminder that while sunny words are a nice start, the physical, bureaucratic, and political obstacles to progress are steep. Beth Fertig, WNYC's education reporter, asked a smart, insider-y question about Fariña's position on the use of loose "networks" of like-minded principals versus geographically based groups of schools. Fariña deflected it, saying she wants whatever is best for kids, but it's the kind of decision that will have a large effect on the day-to-day functioning of the system, especially because in the bad old days the geographic structure led to corruption and patronage.
Michael Mulgrew, the head of the teachers union, cheered the selection of Fariña. "Carmen knows the system inside and out, so she'll move fast," Mulgrew told me recently. "She's been successful at improving schools, which is what we really want." But the union also wants raises, and how Fariña and De Blasio handle the upcoming contract negotiations — not just the dollars but the work rules — will greatly influence how long this honeymoon lasts.
One thing no one in the system will be able to complain about, however: After fourteen years with outsiders in charge, the public schools will now be run by a woman who is a New York educational lifer. "I don't do anything halfway," Fariña said this afternoon. She said it with a smile, but she'll need to back it up with a hard head.