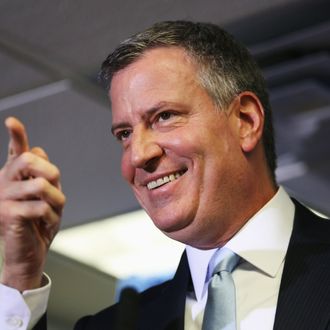 New York City Mayor-Elect Bill de Blasio holds a press conference to announce members of his senior leadership team on December 4, 2013 in New York City. The de Blasio administration is due to take office on January 1.
Photo: John Moore/Getty Images
If this is the first you're hearing of the 1,000 tickets Bill de Blasio's transition team put online for members of the public who want to attend the mayor-elect's swearing-in ceremony, then you are not going to get one. The free passes, which were released at 12:30 p.m. on Thursday and offered on a first-come, first served basis, were all claimed within 90 minutes. We suggest asking Steve Buscemi or Cynthia Nixon for a plus one.