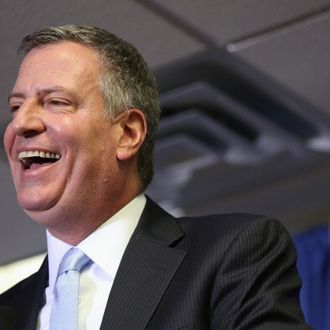 Bill de Blasio's aversion to the A.M. caught up with him again on Thursday, as the mayor-elect arrived at a 10 a.m. event late for the third day in a row, to the great annoyance of the reporters who follow him. Especially galling: His team told members of the media to show up between 9:15 and 9:45 a.m. to cover his announcement of Bill Bratton as NYPD commissioner. "Let me say that there are limits to even our patience," seethed the ever-even-keeled WNYC host Brian Lehrer, according to Politicker.
But this really should come as no surprise. When de Blasio missed a campaign event last month, he made no bones about his dislike for early mornings, saying, "I think we should reorient our society [to] staying up late, but I don't think that's happening right now." He seems to be training the press to follow his lead.
Because the obvious winner of the Thursday morning event, at which some journalists waited idly for close to an hour, was the cameraman who came seriously late, as Politicker reports:
One cameraman arrived 45 minutes late to the press conference, eliciting chuckles from the crowd–but he still beat Mr. de Blasio, whose entourage began to shuffle in around the same time. Mr. de Blasio himself entered roughly five minutes after that.
That sounds like the way to handle these events. Perhaps the new inside line for those covering City Hall won't be on matters of policy, but matters of schedule — as in, how late can I be?