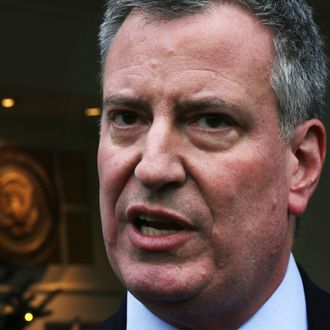 Photo: Alex Wong/Getty Images
Bill de Blasio has already gained a reputation for taking a relaxed approach to his public schedule. And now that he's coming down to the wire for hiring commissioners to run city agencies, he's getting a bit annoyed at the reporters who are pointing that out, too. In what The New York Times's Michael Grynbaum called "some early signs of mayoral testiness," De Blasio chided Politicker's Jill Colvin when she asked him yesterday about the status of three key posts that remained open — sanitation commissioner, fire commissioner, and office of emergency management commissioner. "I appreciate the attempt, but you know better. We will make our announcements when we're ready to make our announcements," De Blasio told Colvin.
With time running out before his swearing-in, Colvin reported that fire commissioner Sal Cassano, OEM commissioner Joseph Bruno, and sanitation commissioner John Doherty would all stay on at least through the transition. But the Times noted that other offices, such as the Office of State Legislative Affairs, remained leaderless as of the weekend. "Current staff members at the office have received no indication from the mayor-elect's transition team as to whether they will be retained," Grynbaum reported.
But with snow in the forecast this week, one position of special interest appears to be filled: Colvin's sources told her that Doherty had agreed to head up Sanitation through the snow season.