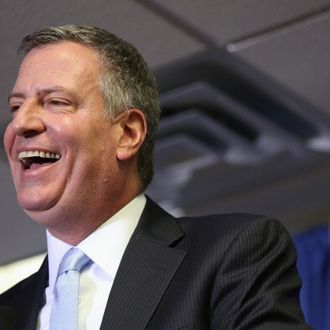 New York City Mayor-Elect Bill de Blasio holds a press conference to announce members of his senior leadership team on December 4, 2013 in New York City. The de Blasio administration is due to take office on January 1.
Photo: John Moore/Getty
"Let's not get crazy about this diversity idea," the mayor-elect joked to a group of reporters in response to a question about whether he'd be willing to bring someone from the GOP into his administration. But seriously, folks — De Blasio would consider an across-the-aisle hire, provided they "share our values." "That may be a high bar for some Republicans," added the six-foot-five Democrat.