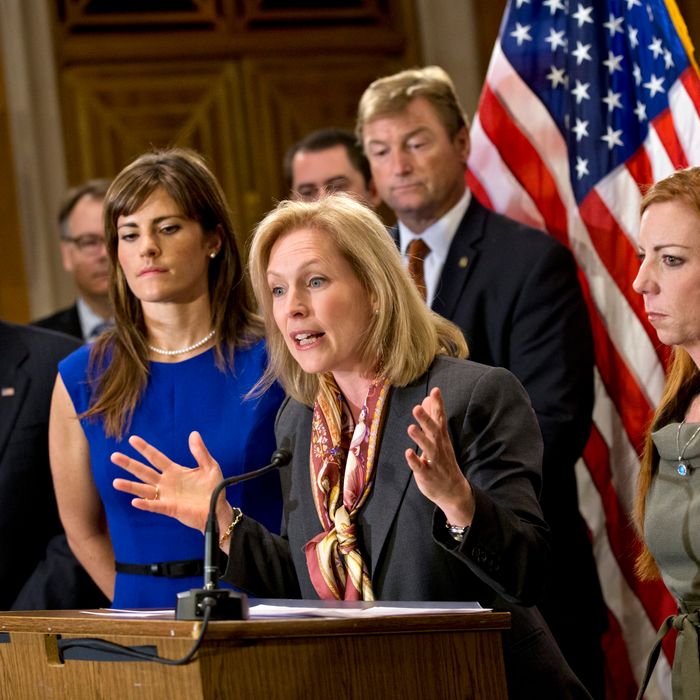 Sen. Kirsten Gillibrand appears with veterans at a press conference last month on military sexual assault.
Photo: J. Scott Applewhite/AP/Corbis
Congress has plenty to do before it recesses for the year, and with Majority Leader Harry Reid threatening to make senators work through the weekend – at Christmas! – lawmakers managed to reach a bipartisan deal on the National Defense Authorization Act on Monday. The bill is considered "must pass," as it's been approved every year for more than five decades and will allow the Pentagon to continue paying troops in combat. This year's slimmed-down version contains mixed news on the effort to reform how the military handles sexual assault. While the deal would implement the most significant changes in years to the military's rules on sexual assault, it omits a more wide-reaching amendment proposed by New York Sen. Kirsten Gillibrand that would have military prosecutors decide whether to prosecute sexual assaults rather than victims' commanders.
Senators Claire McCaskill and Kelly Ayotte, who sit on the Senate Armed Services Committee along will Gillibrand and have offered their own proposals to combat military sexual assault, praised the measures that are included in the bill. "While we're frustrated that votes on additional measures did not occur, these historic reforms — including installing civilian review over prosecutorial decisions, barring commanders from changing jury verdicts, assigning victims their own legal counsel, criminalizing retaliation against victims, and mandating dishonorable discharge for convicted sex offenders — will mean a new day for justice for American servicemembers," they said. Gillibrand has been promised a vote on her measure, though it may be harder to pass on its own.

Gillibrand wasn't the only lawmaker disappointed with the bill, which includes a variety of other measures, such as keeping Guantanamo Bay open and providing funding to destroy Syria's chemical weapons. The bill has been held up in the Senate for months, and there are roughly 500 proposed amendments that won't be considered if it passes this month. The current plan is to have the House vote on the modified version before it recesses on Friday, with senators considering the bill before they head home on Dec. 20.
"This is not the best way to proceed," Senate Armed Services Committee Chairman Carl Levin said on the Senate floor. "But our troops and their families and our nation's security deserve a defense bill, and this is the only practical way to do a defense bill this year."