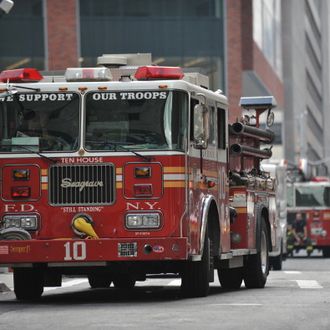 New York City Fire Department engines that responded to reports of a fire at the One World Trade Center tower drive down a street on August 8, 2012 in New York, that turned out to be a false alarm. Dozens of New York firefighters rushed to the World Trade Center skyscraper early Wednesday after a member of the public mistook welding for a fire. Initial reports from the New York Fire Department suggested a minor blaze on the 88th floor of One World Trade Center, the centerpiece in the project to replace the Twin Towers destroyed in the September 11, 2001 terrorist attacks. A spokesman told AFP the fire was brought under control in less than an hour.
Photo: STAN HONDA/AFP/GettyImages
The class of 242 newly minted New York City firefighters that graduated from the fire academy on Thursday was the most diverse one ever to do so, consisting of 62 percent minorities. 24 percent are black and 36 percent are Hispanic, the New York Times reports. Good news for the fire department, which has not always had the best image in this area.