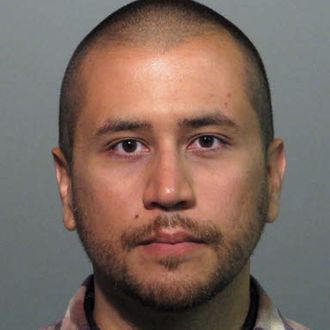 It was just last month that Florida man George Zimmerman, best known for killing an unarmed Trayvon Martin and other misadventures, was arrested and charged with domestic violence against his girlfriend. Samantha Scheibe alleged that Zimmerman choked her and, in a separate incident, threatened her with a gun, resulting in the removal of his firearms and an order of protection requiring he stay away from her. Now she's taking it all back.
In a new sworn statement, Scheibe said, "I do not want George Zimmerman charged." (After being detained at the home of his estranged wife in September, Shellie Zimmerman also opted not to press charges.)
"When I was being questioned by police I felt very intimidated," said Scheibe in her new affidavit, as reported by ABC News. "I believe that the police misinterpreted me and that I may have misspoken about certain facts in my statement to police." Zimmerman "never pointed a gun at or toward my face in a threatening manner," she said, adding, "I want to be with George."
In Scheibe's 911 call, which can be heard here, she says, "He has his freaking gun, breaking all of my stuff right now." Sounding shaken, she yells at Zimmerman, "You just broke my glass table, you just broke my sunglasses, and you put your gun in my freaking face, and told me to get the fuck out." But never mind all that.