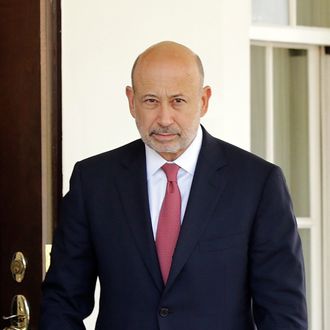 New Candy Crush addict Lloyd Blankfein
Photo: Win McNamee/Getty Images
In the past few years, more and more big corporations have gone BYOD — bring your own device — in an attempt to free their employees from the albatross of an outdated and socially radioactive BlackBerry. Yahoo made the switch earlier this year. Government agencies have been phasing out BlackBerrys, as have huge companies like Pfizer and Halliburton. And in 2010, JPMorgan Chase and UBS, two of Goldman's competitors, began testing pilot BYOD programs. (BlackBerrys are a "magnet for mockery and derision," said the Times last year, but they are also just bad phones.)
Goldman Sachs will not be mocked, nor will it suffer the indignity of second-class smartphones. And so, according to several people close to the bank, Goldman began allowing employees to use iPhones as their official work phones this week.
Goldman is among the slowest major institutions to let its employees use iPhones at work. Its beta test among a select group of employees (which the Times incorrectly reported last year was a permanent, firm-wide program, according to one Goldman insider) lasted more than a year. Goldman already has iPhone apps for recruiting and for its private wealth clients. But when it came to giving employees access to their e-mails and other proprietary information, Goldman wanted to make sure it had the most stringent security features available. 
Goldman employees won't be required to ditch their BlackBerrys, two people close to the firm said. But, by downloading a special app, they'll now be able to send and receive e-mails from their work accounts on iOS devices. (No word on when, or if, an Android version will be available.) Most Goldmanites carry two phones — one work, one personal — and the new policy should allow some of them to downsize to one.
So, welcome, Goldmanites, to this brave new world of touch-screen typing. And for the rest of us: If you get a QuizUp challenge in the "Money" category from a certain "Lloyd B," decline it immediately.