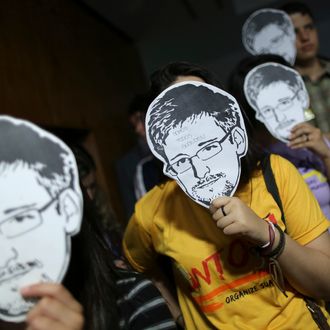 Photo: REUTERS/Ueslei Marcelino
Today, Guardian editor Alan Rusbridger appeared for questioning by the British Parliament's home affairs committee, which is looking into whether the paper endangered lives or national security by publishing stories based on the massive trove of National Security Agency documents Edward Snowden passed along to former Guardian reporter Glenn Greenwald. Rusbridger denied that he put anyone at risk and said he'd been careful in his selection of what was made public: The Guardian printed only "about 1 percent" of Snowden's stuff (which sounds slightly less conservative when you consider that there were "about 58,000 files" to sift through).
Rusbridger also said he "would not expect us to be publishing a huge amount more." Of course, that doesn't mean that the flow of NSA reports is going to stop. Greenwald, who still has access to the files, is now in charge of his own soon-to-launch news organization. Meanwhile, the Guardian began sharing portions of the NSA material with Germany's Der Spiegel, the Washington Post, and the New York Times this summer as the British government intensified the effort to suppress information contained in the documents about its own spying agency, the GCHQ. And even if the established news outlets somehow decided to abandon the NSA issue, Snowden might have a "doomsday" cache of highly classified documents that he could always post on a Tumblr or something.