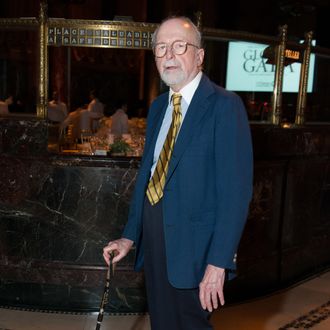 Robert W. Wilson
Photo: Andrew Toth/Patrick McMullan
Yesterday morning, around 11 a.m., Robert W. Wilson, a hedge-fund manager who amassed an $800 million fortune and proceeded to give most of it away to charity, jumped to his death from the sixteenth floor of his Upper West Side high-rise. Wilson, the founder of Wilson Associates, had recently suffered a stroke.
Wilson wasn't the best-known Wall Street investor, but he was one of the most generous. After starting his firm in 1949, he multiplied his initial $15,000 investment many thousands of times over, then set about giving most of his earnings away. "His plan was to give all his money away," a friend of Wilson's told the Post. "He told me recently, 'I only have about $100 million to go.'"
Among the recipients of Wilson's giving was the Roman Catholic Archdiocese of New York, to which he gave $5.6 million in 2010. It was an odd choice — Wilson was an admitted atheist who lost his faith in God years earlier — but he said at the time that he "realized that Catholic schools were closing all over the country, and Bill Gates probably didn't have enough money to save them."
Wilson also donated big sums to the World Monuments Fund, the Nature Conservancy, the Environmental Defense Fund, and the Wildlife Conservation Society. He was 86, and reportedly left a note before opening his window and making his final leap.