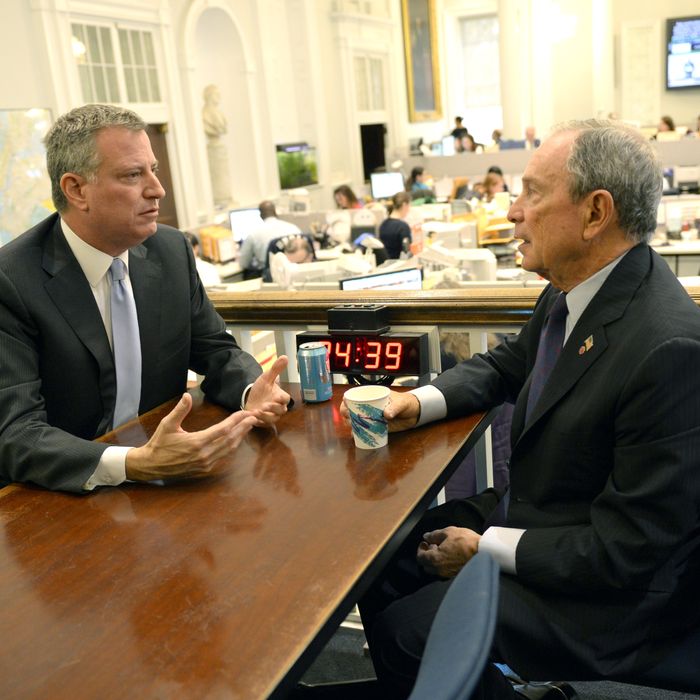 Photo: TIMOTHY CLARY/AFP/Getty Images
Erase September 11, 2001, from the city's history. Thousands of families, of course, would give almost anything to remove that one horrifically painful day, and all other New Yorkers wish we could do it for them. Unfortunately, it's only possible in the imagination. But try to remember the condition and the mood of this town on September 10, 2001, the last time we were on the verge of a mayoral transition. The mid-nineties Wall Street boom had fueled gaudy excess and spiraling income inequality before the dot-com bubble burst; the new mayor was going to be greeted with tens of thousands of private-sector layoffs and a $3.3 billion city-budget deficit. The public schools were a mess, with graduation rates barely cracking 50 percent. Crime had been driven down to historic lows — but Rudy Giuliani was fighting the release of data about the exploding use of stop-and-frisk. Then again, he was fighting with most everybody: his estranged wife, whom he was divorcing in a nasty front-page battle; unionized bus drivers, whom he labeled "idiots" and "morons"; and, most poisonously, black New Yorkers. Race relations had been raw for eight years, and Giuliani kept poking at the wound right to the end, getting booed in Crown Heights when he blamed the unarmed Patrick Dorismond for being shot to death by cops. As voters went to the polls on Primary Day, it was clear that whoever would be replacing Giuliani in City Hall was going to be inheriting tough times and fractured spirits. And then planes hit the World Trade Center.
Twelve years later, New York, as you may have heard, is an ever more frighteningly expensive place to live, and the city's middle and lower classes are struggling to stay above water. The even more historic low levels of crime have been accompanied by the harassment of thousands of black and brown innocents. The place has serious problems, from homelessness to unemployment; traffic stinks, and so do the Knicks. Yet on balance, in substance, style, and spirit, the city Michael Bloomberg turns over to Bill de Blasio next month is significantly better than the one he took over in January 2002. De Blasio ran a winning campaign based on correcting Bloomberg's mistakes — but Bloomberg's successes are what really made De Blasio's victory possible. The mayor did a fine job of praising himself last week during a five-borough "progress" tour (hmmm … progress, progressive … interesting choice of titles for a victory lap). But some of the core achievements are indeed worth repeating as the city heads into the final week of the Bloomberg era. The public-high-school graduation rate soared from 51 percent in 2001 to 65 percent last year. There will be 300 fewer murders this year than twelve years ago. There are 800 more acres of public parkland and thousands more acres of reimagined public space, from the High Line to both Staten Island Ferry terminals to the pedestrian plazas and bike lanes. Giuliani basically ignored subsidized housing; Bloomberg added or preserved 160,000 lower-cost apartments. Life expectancy is up by three years since Bloomberg took office. There are more nearly 4 million private-sector jobs in the city — the most ever.
Bloomberg doesn't deserve sole credit for the successes, and his record includes gaping holes and painful blunders. His blind spot for the financial industry and for fellow plutocrats was enormous. He lacked — no, actively disdained — the conventional politician's gift for empathizing in public. Yet Bloomberg has been able to infuse the city with fresh energy and vitality, and the expectation of a brighter future — something that was in serious doubt in 2002. And the residue of Bloomberg's flaws — like the mistrust of the NYPD in minority communities — isn't as divisive as what came before him. Ed Koch, the irrepressible Jewish uncle, was the necessary corrective to Abe Beame, the hapless accountant. David Dinkins, in 1989, was the right answer to Koch's polarizing bitterness. Giuliani, four years later, provided the muscular leadership necessary to make the city appear not just safer, but governable. And when, with the evil assistance of terrorists, New York suddenly needed a boss who could supply the tough love and business credibility to make the city an innovative global magnet once more, city voters picked Bloomberg. Now we've chosen a man who seems, temperamentally and philosophically, the opposite of the mogul mayor. De Blasio is already mixing the hardball tactics of an operative with the touchy-feely warmth of a Park Slope dad. His inclusive tone, his mixed-race family, and his determination to level the playing field seem ideally suited to the moment and to the city that Bloomberg remade. It's a New York well short of perfection, but we're closer to it than we were twelve years ago.