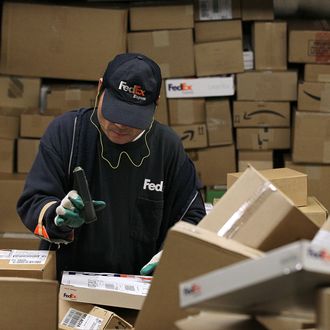 Photo: Justin Sullivan/Getty Images
The combination of an unusually short shopping season, an increase in online sales, and bad weather over the last couple of weeks forced UPS and FedEx into the role of the Grinch this year. While it's not clear how many people had the gift-getting portion of their holiday ruined, the number of packages that did not make their scheduled Christmas Eve and Christmas arrival times was large enough to prompt apologies from both shipping companies.
UPS spokeswoman Natalie Black told the New York Times that the volume of packages sent exceeded her employer's capacity, though she wouldn't say by how much. She did say "only a small percentage" of UPS's Christmas deliveries were delayed, but that's still a lot for an operation that expected to handle 132 million parcels this week. "It is unfortunate for this to happen at this time of year, but we're working around the clock to fix it," Black said. "We are sorry." FedEx, which was tasked with processing 275 million shipments in between Thanksgiving and Christmas, is also sorry. Their spokesman, Scott Fiedler, claimed that the number of packages that didn't arrive on time "would be very few." Some FedEx customers were offered the option of picking up their stuff at a shipping center, which sounds more stressful than it would have been to just buy whatever they ordered at the mall. 
Amazon and Walmart have already contacted customers affected by UPS and FedEx's problems with promises of shipping refunds and $20 gift cards to compensate for the trouble of trying to explain Santa's lateness to children and unreasonable adults.