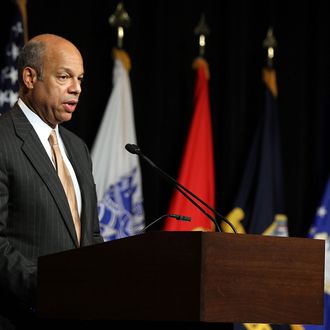 U.S. Defense Department General Counsel Jeh Johnson delivers keynote remarks during an event to observe the "Lesbian, Gay, Bisexual and Transgender Pride Month" June 26, 2012 at the Pentagon in Arlington, Virginia. It was the first-ever LGBT event held at the Pentagon.
Photo: Alex Wong/Getty Images
President Obama's nomination of former Pentagon lawyer Jeh Johnson to be secretary of Homeland Security has been held up for two months, but thanks to Harry Reid partially nuking the filibuster last month, he's been confirmed by the Senate. Previously, 60 votes were required to move forward on a nominee, but on Monday the Senate broke a Republican filibuster on a 57-37 vote, then confirmed Johnson with a final vote of 78-16. Johnson, who helped the Obama administration craft its counterterrorism policies and was a key force behind the repeal of "don't ask, don't tell," replaces Janet Napolitano, who departed in September to serve as president of the the University of California.