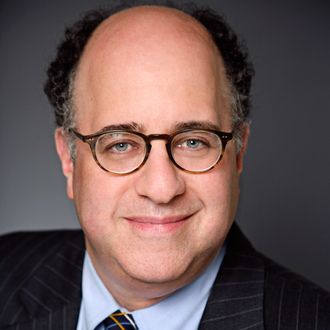 Photo: Courtesy of Commentary Magazine
Commentary editor and New York Post columnist John Podhoretz abruptly exited the stage Monday night at the 92nd Street Y, after becoming too incensed to continue a discussion about Israel. According to moderator Jane Eisner's account in The Jewish Daily Forward, Podhoretz had been "firmly, even aggressively, disagreeing" with Jeremy Ben-Ami, president of J Street, throughout the discussion on what it means to be "pro-Israel." But he lost it when a member of the audience asked about the American Studies Association's announcement Monday that it would boycott Israeli academic institutions over Israel's treatment of Palestinians (something Podhoretz sees as "disgusting" and anti-Semitic). When Eisner tried to intervene in the discussion, according to her account, the editor said she was physically threatening him and stalked off.
Eisner wrote that the panelists, who also included David Harris, executive director of American Jewish Committee, all agreed the ASA vote was "a hypocritical and ultimately counterproductive action." But then Ben-Ami "segued into talking about Israeli government policies that, in his view, make it difficult for some Americans to believe Israel really does want peace with the Palestinians." Podhoretz accused him of blaming the victim, and the crowd booed.
And then — honestly, it's a bit of a blur, but this is what I remember — he started wagging his finger at Ben-Ami in a manner at once threatening and condescending. That's when I stepped in, trying to rein in the argument, using my hands (I am known to gesticulate) to try to calm him down.

Instead, Podhoretz angrily said that I raised my hand at him and stormed off the stage.

Whoa.

I am, physically, much, much smaller than John Podhoretz, so he could hardly allege that I was intending to do him harm. More than that, I was the moderator, and he had a responsibility to be civil on stage and, at the very least, listen to my requests. I was stunned by what I can only describe as a temper tantrum.
Podhoretz, replying in a post in Commentary, wrote that he never thought Eisner had threatened him physically.
Whatever I did, it was, to be sure, no more "threatening" than Eisner's response, which was to put her hand up close to  me for the purposes of quieting me down. Eisner seems to think that when I spoke in objection to this gesture, which I did angrily, I was perhaps fearful she was going to attack me physically—which is the height of silliness. I was annoyed by the hostility of the crowd, one of whose number had shrieked at me, and I was troubled by Eisner's effort to shush me.

Bottom line: I'd had a long day and I didn't see the point in spending more of it getting booed and shushed. So I left. So sue me.
Sounds like a rough night for Podhoretz, Eisner, and Ben-Ami. Although those audience members surely got a more exciting show than they expected.