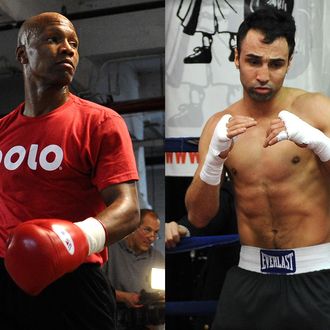 Judah is on the left.
Photo: Maddie Meyer/Getty Images
At least twice this week, conversations could be overheard in the bars of Bushwick and Williamsburg regarding an upcoming mano a mano struggle between two young(ish) individuals in a confined space. The surprise was that the twentysomething loungers lifting glasses of Stella were not talking about a UFC mixed-martial-arts facial bust-up, but rather an old-school boxing match between Paulie Malignaggi, late of Bensonhurst, and Zab Judah, formerly of Brownsville and Cypress Hills, which will take place this Saturday evening at Barclays Center.
Truth be told, both Malignaggi, 33, and Judah, who just turned 36, are more than a bit past their salad days. But if the antediluvian Sylvester Stallone and Robert De Niro can eke yet one more payday out of their hokey Grudge Match movie, who can blame Paulie and Zab, whom over the past fifteen years have been hit in their collective heads by Floyd Mayweather, Miguel Cotto, and many other fistic luminaries? Besides, as noted by hipsters always on the look out for one more throwback pastime to lionize, this isn't any humdrum tiff for a phony plastic belt. It is a match to crown the current ruler of the sainted borough of Brooklyn, both old and new versions.  
The list of Brooklyn fighters reaches from Mike Tyson back to Al "Bummy" Davis, né Albert Abraham Davidoff, one more roughneck from Brownsville, then the wholly owned and operated preserve of Murder Inc. (Bummy, a legendarily dirty fighter, was soon murdered himself at Dudy's Brooklyn Bar in 1945). Malignaggi and Judah, both of whom have made more money than most of those who came before them put together, are arguably the best of this long dwindling bunch. Hence the import of their confrontation.  
"We're fighting for the roof," said Zab Judah at Thursday's press conference, pointing toward the Barclays Center ceiling, where banners immortalizing former Nets players like Dr. J. John "Superman" Williamson and Jason Kidd hang. "One of our names is going up there and one is not" said Judah, dismissing the fact that none of the honored ballplayers (unless you count Kidd's current coaching and/or Coca-Cola spilling stint) had actually ever taken the court at Barclays while wearing short pants.
For a turf battle, the run-up to the Malignaggi-Judah clash has been relatively sedate, with the fighters leaving much of the good, old-fashioned ethnic character assassination to their respective fan bases. After all, Judah and Malignaggi have known each other for years, both of them training at Gleason's Gym near the Brooklyn Bridge. However, with the fight so close, it was apparent the two men are gearing up. Both agreed that they were "two people" ("a schizo," Malignaggi called it) — one guy outside the ring, and another once the bell rang.
"Look, man, I'd kill you if you say anything about my mother. But if she's in there after I hear ding, I'm punching her right in the mouth. Hard," allowed Malignaggi, looking exceedingly dapper in a slim designer suit and dark sunglasses.  
Judah grew up as a member of the Black Hebrew Israelites (and wearing a Jewish star on his trunks) and is known for attacking referees and duking it out with a crew headed by rapper Fabolous after the alleged attempted theft of his Lamborghini. He has also ramped up: "I see this as a fight for the empire, like back in Roman times. There was only one King … and if the two people saying they were king fought, the loser would be beheaded. They just cut off his damn head." 
Hearing this, Malignaggi said, "That's pretty gory, Zab. Hope it don't come to that."