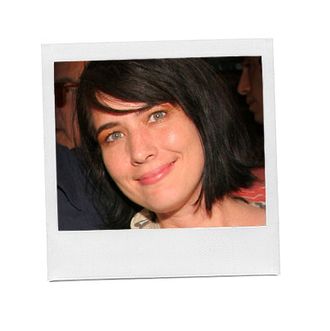 Photo: Will Ragozzino/PatrickMcMullan.com
Name: Kathleen Hanna
Age: 44
Neighborhood: Flatiron
Occupation: Musician. Formerly: Bikini Kill, Le Tigre. Currently: The Julie Ruin. 
Who's your favorite New Yorker, living or dead, real or fictional? 
Yoko Ono. She invented the music video, innovated performance art, and was the first feminist punk singer. I was at one of her shows, and between songs she talked about an experiment where some cells were taken out of a woman's mouth and put in a Petri dish and then they showed the woman some movie in the other room and every time something violent  happened in the movie, the cells in the dish reacted. I stopped watching scary movies after that.
What's the best meal you've eaten in New York?
Sushi at Japonica. Maybe that's not that cool, but my husband took me there fifteen years ago and it was the first time I ever had sushi. While I was eating it I started crying and when he asked me why, I said, "It took me 29 years to taste this and I could've been eating it the whole time." Most couples can say, "They're playing our song," but we don't have a song, we have a hand roll. Salmon, avocado, and plain mayonnaise.
In one sentence, what do you actually do all day in your job?
I write songs, practice songs, make videos, do press, answer e-mails, and avoid social media.
What was your first job in New York?
I poured wine on a barge.
What's the last thing you saw on Broadway?
Kiki and Herb.
Do you give money to panhandlers?
Only if they are pregnant, fake pregnant, or have a baby in their arms. 
What's your drink?
Dr. Brown's Cel-ray Soda.
How often do you prepare your own meals?
Not that often; my husband usually does it. When I do it, I want a parade thrown. Let's just say I make omelettes a lot. It's like I'm a divorced dad. Omelette for breakfast, lunch, dinner — so versatile, and you can just put leftovers in there.
What's your favorite medication?
Sudafed. Look at me, I cleaned the whole apartment!
What's hanging above your sofa?
My couch is in the middle of the room with cat hair all over it, but there's art all around that. I collect photographs by Becca Albee; they're my favorite and I can see them from my cat-hair couch.
How much is too much to spend on a haircut?
My friend Jo has a hair salon in the Village called Seagull (it's the oldest unisex salon in the city!) and they give me a great deal, so I guess I'd say $100 is too much. I also cut my own bangs with nail scissors, so I'm probably the wrong person to ask. 
When's bedtime?
Midnight on regular nights. 3 a.m. on show nights.
Which do you prefer, the old Times Square or the new Times Square?
Old Times Square. I worked at the Times Square Hojo's for one day when I was 17 after all my money was stolen by some asshole Scandinavian girls at the hostel I was staying at. I just took the tips at the end of the day, bought a sandwich, and went straight to Playland. I thought it was important that I made a name for myself in NYC by getting the high score in Centipede.
What do you think of Donald Trump?
He is a fucking asshole. He built that stupid "hotel" in Soho that is a total sham. Someone died building that ugly building and he just broke rule after rule because he can afford to pay fines. Fuck him and his stupid right-wing politics. Miss America? Really? It's 2013!!! 
What do you hate most about living in New York?
Seeing people pooping between parked cars. 
Who is your mortal enemy?
Anyone who doesn't believe in late-stage Lyme disease.
When's the last time you drove a car?
Nine years ago, legally. Five years ago, illegally.
How has the Wall Street crash affected you?
It made me totally angry at all the dicks in suits who lied to people to get them to sign mortgages they couldn't afford and then the Wall Street fuckers who profited from it. Why are African-American kids getting frisked for no fucking reason and the guys who ruined the entire economy get to walk away with wheelbarrows full of cash? We should frisk their bank accounts and use what we find to elect a mayor who will penalize cops for racial profiling.
Times, Post, or Daily News?
All three. Pat Kiernan from NY1 reads me the news every morning on his segment "In the Papers." 
Where do you go to be alone?
The bathroom. 
What makes someone a New Yorker?
Knowing that if a subway car is empty it is not a joyous occasion, it means either the air conditioning is broken or there is something super stinky in there.