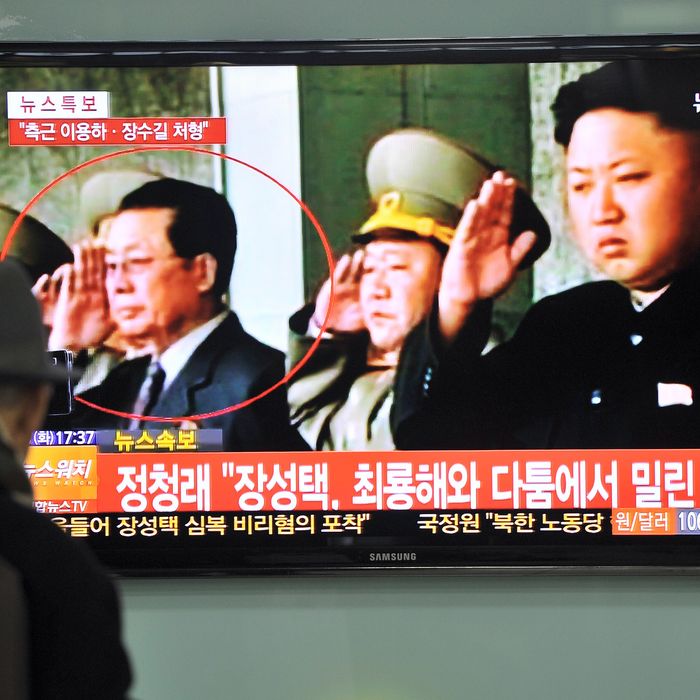 Jang and Kim.
Photo: JUNG YEON-JE/AFP/Getty Images
North Korean dictator Kim Jong-un's uncle and former right-hand man, Jang Song-thae, has been executed, according to an announcement from state-controlled news agency KCNA. He was removed from office earlier this month over what were later reported to be allegations of mismanaging the country's financial system, corruption, and leading a "dissolute" life of drugs, drinking, and womanizing. According to the KCNA statement released today, a "special military tribunal" decided to have Jang (who was married to Kim Jong-il's sister, Kim Kyong-hui) killed after determining that he had plotted to overthrow his nephew's government.
The "report" is long and does not include any details about the circumstances of Jang's execution, but this is probably the most chilling part:
It is an elementary obligation of a human being to repay trust with a sense of obligation and benevolence with loyalty. However, despicable human scum Jang, who was worse than a dog, perpetrated thrice-cursed acts of treachery in betrayal of such profound trust and warmest paternal love shown by the party and the leader for him.
This is probably a good time for everyone to remind themselves that while Kim's antics — and those of the Americans who manage to gain access to him — may seem amusing at times, what goes on in North Korea is no joke.