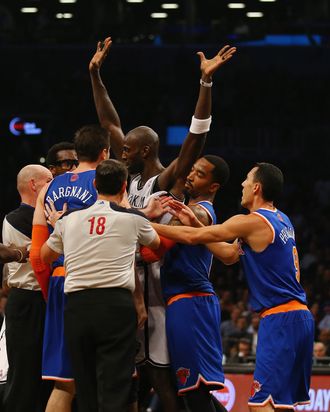 Andrea Bargnani #77 of the New York Knicks and Kevin Garnett #2 of the Brooklyn Nets are separated after an altercation during their game at the Barclays Center on December 5, 2013 in the Brooklyn borough of New York City. NOTE TO USER: User expressly acknowledges and agrees that, by downloading and or using this photograph, User is consenting to the terms and conditions of the Getty Images License Agreement.
Photo: Al Bello/Getty Images
They still have one of the league's worst records, but the Knicks got a much-needed morale boost last night by demolishing their intra-city rivals, the Brooklyn Nets, 113-83. The Knicks ran up the score early, and passions were running high: Iman Shumpert and Andray Blatche had to be separated, Andrea Bargnani and Kevin Garnett scuffled, and Bargnani was later thrown out of the game for trash-talking Garnett (poor Kevin!). "I don't understand Italian," Garnett told reporters after the game. "I wasn't speaking Italian," Bargnani says.