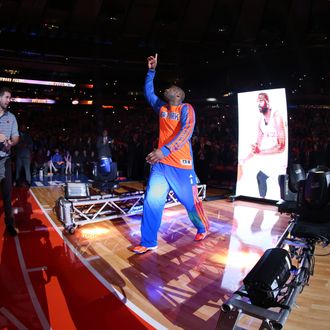 Raymond Felton #2 of the New York Knicks before playing the Milwaukee Bucks in the first regular season game at the newly transformed Madison Square Garden in New York City on October 30, 2013.
Photo: Nathaniel S. Butler/NBAE via Getty Images
As has been thoroughly documented, very little is going right for the Knicks this year. Although they did manage to pull off a win over the Orlando Magic last night, Carmelo Anthony and Raymond Felton both suffered injuries of unknown severity. Which brings us to the latest Knicks strategy: prayer. "Pray for us. Pray for us," Felton told reporters after the game."I'm serious, though." True story: My rabbi once told me it was not okay to pray for help beating video games. Probably because God was busy with important things, like fixing the Knicks.