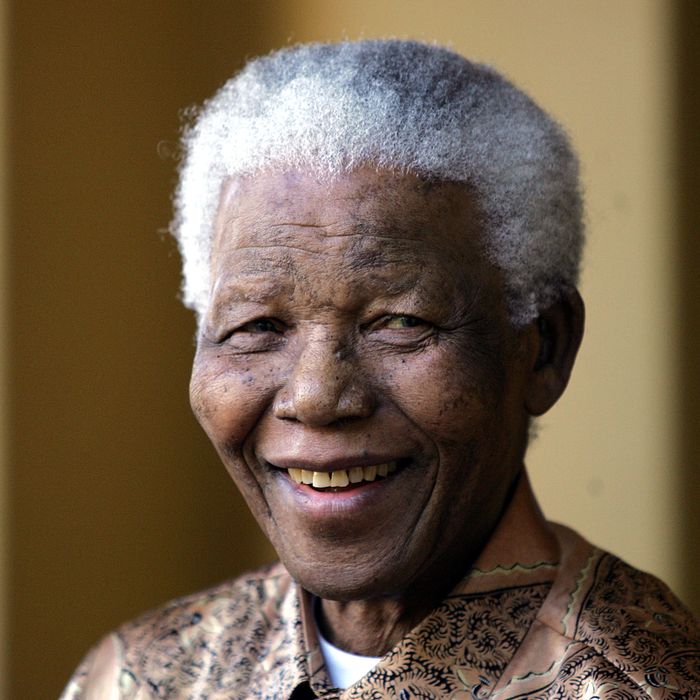 Photo: ALEXANDER JOE/AFP/Getty Images
In his remarks on the death of the South African icon, President Obama described himself as "one of the countless millions who drew inspiration from Nelson Mandela's life." While the outpouring of condolences affirmed that everyone from John Boehner to Justin Timberlake was touched by the story of the prisoner turned president, many stars shared personal recollections of the man himself, and how his work impacted their lives. Read on for some of the most interesting tributes, from Joe Biden on visiting South Africa under apartheid to Ian McKellen on lobbying Madiba about gay rights.
Vice President Joe Biden: "I saw his world the way it used to be when I visited South Africa as a 34 year old Senator. When I exited the plane I was directed to one side of the tarmac, while the African American congressmen traveling with me were sent to the other side.  I refused to break off, and the officials finally relented. When I tried to enter Soweto township with Congressmen Andrew Young of Atlanta and Charles Diggs of Detroit, I remember their tears of anger and sadness.  Because of Nelson Mandela's courage, and compassion, that world has been transformed."
Oprah Winfrey: "One of the great honors of my life was to be invited to Nelson Mandela's home, spend private time and get to know him. He was everything you've ever heard and more – humble and unscathed by bitterness. And he always loved to tell a good joke. Being in his presence was like sitting with grace and majesty at the same time. He will always be my hero. His life was a gift to us all."
Ian McKellen, on meeting Mandela in 1995 to lobby for gay rights:
He sat on an upright upholstered chair, legs crossed so his striped socks showed. His eyes drooped, damaged by the hard labour in the Robben Island lime quarry. He spoke quietly, about the weather but then my reasons for being in RSA. That was my cue to introduce Phumzeli who made the case for protecting gay people from discrimination. The victim of apartheid quickly got the point. He then asked about Phumi's education. Perhaps it was that he wasn't at ease talking about gay issues, nervous even. I'd been warned that he might giggle.

The chatterbox Simon hadn't yet spoken when our 20 minutes was almost up. In a rush he told Madiba that he'd been on trial for his life and then released. He said, "My regret about not being found guilty is that I missed the chance to serve with you on Robben Island.' Mandela looked right at Simon, shaking his head. "No. No you don't regret that."

I asked if we could tell the press that the President supported the Constitutional Committee. The president nodded "Yes" and it was time for the photograph – taken without flash because of his sight. Simon put a protective arm round Tata's shoulder. Phumzeli beamed. The constitution, explicitly prohibiting discrimination based on sexual orientation, came into effect two years later.
Former President George H.W. Bush: "Barbara and I mourn the passing of one of the greatest believers in freedom we have had the privilege to know. As President, I watched in wonder as Nelson Mandela had the remarkable capacity to forgive his jailers following 26 years of wrongful imprisonment — setting a powerful example of redemption and grace for us all. He was a man of tremendous moral courage, who changed the course of history in his country."
Vermont Sen. Patrick Leahy: "I will always cherish the memory of meeting with him when he came to the Capitol in 1994. I had the honor of serving on the Senate's escort committee to accompany him to the House Chamber for his address to a joint meeting of Congress. Sitting together in a room off the House floor, I said to him, 'Mr. President, you spent decades in prison, unjustly, yet you don't seem bitter.' He replied, 'Patrick, because of my imprisonment I was able to lead my country out of apartheid. For that I do not feel bitterness, but joy.'"
Morgan Freeman, from his Time essay on playing Mandel in Invictus: "Madiba, as his friends called him, and I became friends back in the 1990s when, during a press conference, he was asked whom he would want to portray him in a film. To my everlasting honor, he mentioned me, and thus began our 20-year relationship. I got to walk with him, talk with him, hold his hand and get to know one of the greatest men who ever lived. Nearly 20 years after our first meeting, my company Revelations had the unique pleasure of developing and producing the film Invictus, with me in the role of Mandela. Consistent with the true content of his character, his only comment after we first screened the movie for him was a humble, 'Now perhaps people will remember me.'"
Former Mayor David Dinkins recalls Mandela's 1990 visit to New York: "In terms of outreach to a broad audience, the night at Yankee Stadium was amazing. Billy Joel had booked the stadium for several days, but he gave us one of them for the visit. The seats were filled and the crowd chanted, 'Amandla! Amandla!' I put a Yankee cap on his head and a Yankee jacket around his shoulders, and he said to the crowd, 'You know who I am. I am a Yankee!' George Steinbrenner was so impressed, he called us the next day and said, 'The cost is on me.'"
Idris Elba, star of Mandela: Long Walk to Freedom: "What an honor it was to step into the shoes of Nelson Mandela and portray a man who defied odds, broke down barriers, and championed human rights before the eyes of the world. My thoughts and prayers are with his family."
Barack Obama: "I am one of the countless millions who drew inspiration from Nelson Mandela's life.  My very first political action, the first thing I ever did that involved an issue or a policy or politics, was a protest against apartheid.  I studied his words and his writings.  The day that he was released from prison gave me a sense of what human beings can do when they're guided by their hopes and not by their fears.  And like so many around the globe, I cannot fully imagine my own life without the example that Nelson Mandela set, and so long as I live I will do what I can to learn from him."